"Is the art pretty?" Jane asks her mother as she walks into a modern art exhibition titled "The Death of Meaning" along with her brother Peter. "No," says Mummy. "Pretty is not important."
Thus begins the exploration of the family into the modern art world in the mock-children's book "We Go To The Gallery" by English artist Miriam Elia. The space of the art gallery sets two worldviews against each other, with hilarious results. 'Mummy,' the English mother is the 21st century nihilist. And her two children, little Jane and Peter, exemplify the post-war optimism of the mid 1900s.
Ladybird, the English response to the American children's book series Dick and Jane, is the aesthetic and stylistic inspiration for the work— also with its roots in mid-century optimism. As the family walks from room to room, Jane and Peter react logically (and childishly) to abstract works, only to get struck down and confused by the cynical mother.
"It draws two worlds that are polar opposites together," Elia says of the book, which saw a limited release of 1,000 copies this month. "The mother is kind of the bridge between them, because she is able to explain the art to the kids in a way that they understand."
G/O Media may get a commission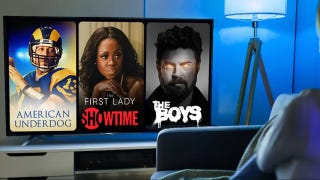 UNDER $1
99¢ Prime Video Channels
As an artist, the irony of explaining of her own, arguably modern, piece of work to a reporter is not lost on her.
"I am a modern artist, so I create these, and these are beautiful things. You know, I consider this a piece of art," she says as she holds up the hand-bound 48 page book. "But at the same time, this piece is very critical of a lot of the philosophy underlying modern art."
When asked if she has offended any artists with her critique of the culture, Elia just laughs it off. "Funnily enough, I am in the middle of a massive legal problem, but not with any artists. Ladybird Books is threatening to destroy my book, take the art away, and suppress it," she says. "No artists have taken offense to it at all. But [Ladybird] thinks it is upsetting the values of childhood."
"This book is clearly for adults," she concludes. "But, I don't like to patronize children. I'm sure some kid out there can get the humor."
All images by Miriam Elia
Daniel Rivero is a producer/reporter for Fusion who focuses on police and justice issues. He also skateboards, does a bunch of arts related things on his off time, and likes Cuban coffee.