No two people will remember Prince in the same way: his multifaceted greatness manifested itself in myriad ways and across countless styles, not only in his own performances but also in the people he wrote for and performed with. Even his most devoted fans only ever saw a small fraction of his shows, and all of his shows were different. On top of that, an enormous trove of Prince's oeuvre is buried in his legendary vault, and for the time being no one really knows exactly what that vault contains.
The result is that a full understanding of Prince's breadth and genius is pretty much impossible, at least for the time being. Instead, what we all have to go on is memories–and in very large part, those memories are of Prince's output in the 1980s, when he was signed to a major record label (Warner Bros.) which successfully disseminated Prince's music and image (and movies) to hundreds of millions of people around the world.
Whenever the world mourns and remembers a famous person, there's always a gap between who they were and what they did, on the one hand, and how they are remembered, on the other. Most people in the entertainment industry try to minimize that gap: they want as much of their work as possible to reach as wide an audience as possible.
But Prince was different: he was adamant that his own interests were not aligned with those of his distributors.
Once he finally managed to leave Warner Bros., Prince became much more concerned with the product—the music—than he was with the size of his audience. He loved to play tiny, intimate gigs; he hoarded thousands of hours of recordings; he was adamant that his music stay off streaming services like Spotify and YouTube. If you were going to listen to Prince's music, Prince wanted to be as sure as he could be that you were listening to it in the way that he wanted you to listen to it. Like many other great artists, from Stanley Kubrick to Donald Judd, Prince always wanted maximum control over how his audience experienced his work.
G/O Media may get a commission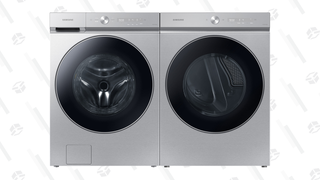 Get $500 back in credit
Last Chance: Samsung Bespoke AI Washer and Dryer Preorder
Prince achieved financial success early on. The marketing gurus at Warner Bros. were adept at ensuring that his genius was spread far and wide, and he became rich and famous as a result. But for Prince, wealth and fame were not ends in themselves, so much as they were the tools which enabled him to pursue his artistic vision in an ever more single-minded manner.
The New York Times sent out a breaking-news alert on Thursday which described Prince, not incorrectly, as a "master of infectious pop." The description is woefully inadequate, of course, yet on some kind of weighted-average basis of how he was experienced, it might be true.
Prince knew what it was to reach millions, and much of the world is remembering that 1980s artist today. He also knew that art and reach are two different things. Reach made him famous. But what he lived for was art.