The United States needs to take a serious look in the mirror in light of this story. An investigation by The Intercept has revealed that the private mercenary and counterterrorism firm TigerSwan ran a military-style operation in coordination with police and the energy firm building the Dakota Access Pipeline.

That operation, on behalf of client Energy Transfer Partners and coordinated with police agencies in at least five states, targeted protesters and opponents to the pipeline, treating them as if they were "jihadist fighters."

The Intercept based its report on 100 leaked internal documents and 1,000 others obtained through public records requests.

Internal TigerSwan communications describe the movement as "an ideologically driven insurgency with a strong religious component" and compare the anti-pipeline water protectors to jihadist fighters. One report, dated February 27, 2017, states that since the movement "generally followed the jihadist insurgency model while active, we can expect the individuals who fought for and supported it to follow a post-insurgency model after its collapse." Drawing comparisons with post-Soviet Afghanistan, the report warns, "While we can expect to see the continued spread of the anti-DAPL diaspora … aggressive intelligence preparation of the battlefield and active coordination between intelligence and security elements are now a proven method of defeating pipeline insurgencies."
G/O Media may get a commission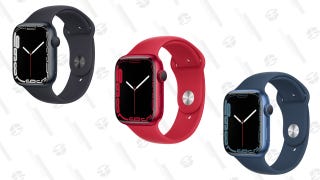 Up To $45 Off
Apple Watch Series 7
The Intercept also provided online access to militaristic "Situation Reports" compiled by TigerSwan and delivered to the energy firm that were essentially intelligence briefings on protesters' and indigenous groups' daily activities in several states.

One section of the briefs notes the firm's efforts to flood social media with talking points in favor of the project. "Sponsor social media narratives #dapl," one bullet point states. "Reply to social media narratives with facts #dapl #nodapl," says another. The points are followed by social media engagement statistics.

According to the investigation, "The documents also provide extensive evidence of aerial surveillance and radio eavesdropping, as well as infiltration of camps and activist circles."
All of these activities were coordinated and shared with agents from several federal agencies, including the FBI, the Department of Homeland Security, the Justice Department, and others, in addition to police forces across multiple states. In at least one case, TigerSwan coordinated with North Dakota's Attorney General's Office.

The group also compiled and collected information on individuals as part of its "persons of interest" lists of whom to spy on and follow.

One of the people TigerSwan spied on is Cody Hall. Hall told The Intercept, "It was obvious, they were driving in trucks, SUVs, they would be right behind me, right next to me…it was like, damn, man, it's like you're getting an escort…That was always the scary thing: How did they know that I was coming?"

Retired Army Col. James Reese founded TigerSwan with the help of other retired members of Delta Force during the Iraq war, The Intercept and TigerSwan's website state. The company originally served as a contractor for the U.S. military and State Department to "execute the global war on terror." But among its many portfolios, the company appears to be treating U.S. citizens and members of indigenous tribes opposed to the pipeline as "terrorists." And that is simply un-American.