There's nothing one-dimensional about MeLo-X. Sure, he was talented enough to be discovered by Beyoncé in 2014 after she heard his remixes of her self-titled surprise album on the internet. Sure, he co-wrote and co-produced probably the biggest track from her newest album, "Sorry." But MeLo-X is an artist all his own, with an unmatchable creative vision. His 2014 EP Curaté stemmed from his own visual art, and after that album was finished, he released an app where listeners could remix his work into their own.
MeLo (a.k.a. Sean Rhoden) isn't jaded about art or recognition or creation. He's an optimist who believes in the next generation of creators and the importance of today's art. He's just as interested in how to make a catchy hook as he is in finding exactly the right sound for the monolith on Beyoncé's tour stage to make while it rotates.  When we speak on the phone, he's casual. He speaks slowly and pauses often, as if he's holding each thought in his mouth, turning it over carefully before handing it gently to me.
I chatted with MeLo-X last week on the phone about how he evolved as a musician, what he's working on currently, and his secret Beyoncé notebooks:
When did you first see yourself as a music creator?
For as long as I can remember, I've been creating music. When I was real young I got into playing piano and learning songs and stuff like that and I would record myself free-styling and doing a bunch of shit.
G/O Media may get a commission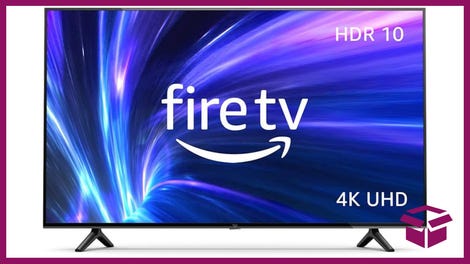 42% Off
Amazon Fire TV 50" 4K Smart TV
I guess it's really been just a bunch of gradual steps. I have always been creating, and a lot of what I do is production and artwork and mixing. I went to school for audio engineering. That's where I really started mastering the art of mixing my own music. But ever since high school I've been just putting out music and mixtapes. And that led to me creating the visual art that accompanied my music.
How does creating visual art differ from creating sonic art for you?
Well, they all usually meet at some point. A lot of what I do with my music translates to my live performances. When I perform live, I remix my work, and that's the DJ artist side of what I do.
When I do bigger performances, like when I performed at the MOMA or when I perform at galleries, I get to expand into the visual side. A lot of my art collides into each other. I have certain times of the year where I focus on the visual, and certain times where I focus on music.
Usually, the visual and the story comes first. I'll start to paint these pictures and then the music comes from that. I usually find a lot of time to create everything. Because they are so meshed together, it's not like I run out of time.
Does this process stay the same when you're creating work for other artists?
I mean, I approach a lot of it the same way. For me specifically, when I'm working on my own stuff, I have full control over everything that's happening. When I made Curaté, I developed an app that went along with the project and it gives people the process to edit the music while they listen to it.
When I have my own things, I get to be the boss over each step. But when I work with other artists, I kind of get into their worlds. I rarely do, like, one-off songs with people. When I work with other artists  I spend a lot of time trying to embed myself into what they want and how they work.
So how did that embedding work when you were brought onto the team to create Beyoncé's Lemonade?
It was much of the same idea. Hearing a lot of the music before it came out and hearing the direction that she was going musically helped me understand the vibe and the feel and what was being conveyed. And then it was just about adding my touches—what I thought was missing or stories that I felt needed to be expanded, stories that I could add to.
That's how a song like "Sorry" came out, which is one of the songs I helped produce and worked on. It does have a Caribbean vibe to it and that's me. That's what I like to bring to the work. "Hold Up" I co-wrote with her and some other writers and that's another Caribbean-inspired [song]. You can hear my work in those songs.
How do you balance maintaining your own style and artistry and making sure that an artist gets what they need for their album?
I mean it's pretty easy when they have an idea of how I do what I do. A lot of what I do is very experimental, like weird sounds, or it's really super minimal. With B, I was working with her maybe a year or two prior to when the album came out, so we were already in a groove. For the On the Run tour and the online releases. With other artists that I work with, before I work with them I try to go out with them and do something that has something that has nothing to do with music. I like to go out to a bar, and just see who they are so I can help them make stuff that's authentic to them.
I do a lot of writing for artists as well. It's the same thing of tapping into where they are in their moment. I'll just write key phrases while we are talking. For the Lemonade album, I have like two or three books with notes that I took from conversations me and B had. Especially with the stuff that I worked on for the Lemonade film. I have just books and books of notes that I wrote down. And then when I was sitting down to work, I kind of used those phrases and those words. I asked myself, "How do I convey this message sonically?"
Can you give me an example of something you remember writing down in one of those notebooks?
[Laughs] That'll probably be in the museum when I'm dead.
Did you work on the film first or the album? How did all of that play out?
Kinda simultaneously. I did start working on stuff last year. Leading up to the film we already had a bunch of ideas for what it should look like and feel like.
It's kind of the same [as my personal work] because I usually work on the music from a visual standpoint. I see colors and sequences when I create music as if I were watching a movie. How does this track feel? How does this sequence play out?  I'll be working on music and I'll have a film that I'm working on at the same time because they are kind of intertwined in my mind.
Working on songs is kind of the same way. I pull from a lot of visual inspiration for the music because I feel like they go hand in hand nowadays. I feel like a lot of the time music can be digested so quickly, but when there's a visual accompaniment, you have to kind of slow down and take it all in.
I like to approach my production the same way. I'll place the sound of a bird on the right side. I put a lot of atmosphere into my work.
You worked on her tour too, right? Can you tell me about that?
Basically the same thing I did on the On the Run tour, which is I score the tour: a lot of the interstitials or things that happen in between songs. I did a lot of sound design, too. In the beginning there's the big monolith in the middle of the stage and you hear the sounds as it turns. I had to ask myself, "How would this big-ass monolith sound if it was moving?" And I decided it would sound like it was in a factory. So we added that.
How long does it take to plan out all of these sounds?
Sometimes it takes like two or three months. Sometimes it takes two or three weeks. Time restraints have never been something that held me back. I had a few nights working on the tour that I was up all night. Everything I did was post-production. I went to the show in Tampa and Miami. I went to the show in L.A. We had a cool after-party after, like a pajama party. The Beyhive pays attention to what goes on and what's changing as it goes on. We still work on a lot of things as the show goes on. We're still adding and changing things to make it as good as we can.
When you're not working on the tour, what are you working on right now?
I'm working on a project called Juvé Nite, a project is really inspired by growing up in East Flatbush and being of Peruvian descent. It's when a lot of people start building floats, and a lot of people come out to Flatbush and the Brooklyn area. It basically becomes a big pregame. The project is really inspired by Brooklyn. It has a lot of elements to it .
The festival started here as the labor unions having a parade but kind of morphed into this whole Caribbean festival. I'm so fascinated by the spread of Caribbean influence, especially in the electronic world and the hip-hop world. These small hubs that create this music that's inspired by the circumstances they were in. There's a lot of steel pan bands. And that kind of originates from slaves just using what they had.
How do you balance creating new work while paying respect to the cultures that inspire you?
That's kind of where I'm at now. Just tapping into my own culture and trying to translate that into the contemporary.
The main challenge is to be authentic but at the same time be able to push things forward. There's a difference in copying and playing homage to and being inspired by. There's a certain way to show respect, but also pushing it to a separate place, so figuring out what the balance between those is.
Is there anything else you think people should know? Anything you're excited about?
I did this event at boiler room [a few] days ago, and a buncha young kids came out. They're all basically under 20 and they're just like the illest group of creatives that I know. I've just been working with them. Teaching them to perform.
I'm real excited about them. I'm just real excited about new energy. I feel like a lot of time people get very separated from culture when they gain any type of relevance. They get too far removed from the culture that they come from or the culture that they helped mold. I'm always trying to give back to the creative community in some way. You can give back ideas as well. My adventures and things that I have done in life can inspire somebody, and I hope they do.
Kelsey McKinney is a culture staff writer for Fusion.