Some advice: If you feel like you absolutely must compare a movement dedicated to equality and social justice to an organization infamous for its legacy of murderous racism and bigotry…well, actually, just don't.
Unfortunately, that's exactly what Doug Muir, a local businessman and adjunct professor at the University of Virginia, did.
On October 4, Black Lives Matter movement co-founder Alicia Garza was in Charlottesville, VA to participate in Rooting Out Injustice, an event focused on exploring "the intersection of poverty and race and examine the role of Legal Aid in bringing about a more just society." There, the Richmond-Times Dispatch reported, Garza told the crowd that:

Black Lives Matter aims to end state-sanctioned violence once and for all. We are fighting for the sanctity and dignity of all of us, and not just for black men. We are fighting for black women, black queer people, black trans people, immigrants and the disabled community.
While "fighting for the sanctity and dignity of all of us" may sound to many like a pretty great plan, Muir was not impressed. Here's what he reportedly wrote on a Facebook post about Garza's visit.
"Black Lives Matter is the biggest rasist organization since the clan [sic]. Are you kidding me. Disgusting!!!"
G/O Media may get a commission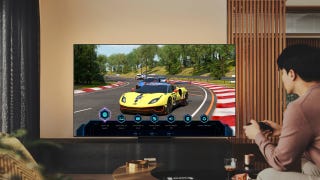 Up to $700 off
TVs, Cell Phones, Smart Home, and More
Hoo boy.
Misspellings of both "racist" and "the Klan" aside, Muir's equating of BLM and the KKK is both profoundly ignorant, and hugely troubling considering one was born out of the ongoing struggle for civil rights and racial equality, and the other has reveled in bigotry and violence for decades.
The comments did not go unnoticed by the two departments where Muir lectured administrators. A statement from the School of Engineering and Applied Sciences called them "entirely inappropriate." Another statement from the Darden School of Business made clear that Muir's remarks "do not in any way represent the viewpoint or values of [the department]."
A third statement from University provost Tom Katsouleas emphasized that Muir's comments were not only offensive, but antithetical to the mission of the school:

The University of Virginia stands firmly against racism and social injustice of any kind. Our mission statement offers "our unwavering support of a collaborative, diverse community bound together by distinctive foundational values of honor, integrity, trust, and respect."  This position in no way squelches academic freedom, which welcomes dissent and encourages the voices of others whose perspectives may differ from ours—thereby adding new insights to our own.  But statements such as Mr. Muir's do not foster intellectual exploration, nor do they encourage the voices of others.
According to Craig H. Benson, dean of the School of Engineering and Applied Sciences, Muir has "agreed to take leave" and will, at some point, make his own statement regarding the incident.
On Saturday, community members in Charlottesville protested outside Bella's Italian Restaurant, which is owned by Muir. According to the local CBS affiliate, even the restaurant's general manager was sympathetic to their message, telling the station "The rest of [the staff at Bella's] are definitely in the other direction against that. Like I said, nobody could believe that the comment was made."
Muir could not be reached for comment.