Over the past four NFL seasons, the San Diego Chargers have had 10 game broadcasts blacked out from local television due to poor ticket sales.
This makes the SoCal city among the most punished by existing blackout rules, which prevent football games from being broadcast on local television if the stadium sells fewer than 85 percent of its tickets. The measure, established in 1975, was created to help teams by encouraging fans to buy tickets to the games, rather than watch them on TV.
But it's an outdated incentive, according to an op-ed published Tuesday in USA Today. In the article, FCC chairman Tom Wheeler argues that the 39-year-old blackout rules are "obsolete and have to go."
"[These rules] are a bad hangover from the days when barely 40 percent of games sold out and gate receipts were the league's principal source of revenue," Wheeler wrote. "[This year's opening] weekend," he continued, "every single game was sold out. More significantly, pro football is now the most popular content on television."
During the 2013 season, he notes, the NFL pulled in $10 billion in revenue, and only two games (Miami Dolphins v. Buffalo Bills and Cincinnati Bengals v. San Diego Chargers) were blocked out for failing to draw a sufficient crowd. That number is down significantly from league-wide blackouts affecting some 59 percent of all games in the 1970s.
G/O Media may get a commission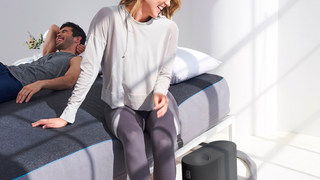 Eight Sleep Pod Cover
Post by Surf, Turf, and Murph.
Green Bay Packers fans are some of the most dedicated in the sports world. But when a weather forecast last year listed a low of 15 degrees below zero for a playoff game against the San Francisco 49s, understandably many fans thought it might be wiser to watch the game from the comfort of their own home. Surprisingly, the game was not sold out, and the unimaginable nearly happened— a blackout of the most anticipated game of the season. Ultimately, a group of Packers' corporate partners, led by Associated Bank, purchased the remaining tickets on their own dime to save the TV broadcast.
Post by Oldies 95.7.
Miami Dolphins owner Stephen Ross also regularly buys more seats than he can fill, just to prevent TV blackouts.
"We don't know if this is a sustainable policy, but we're going to take it one game at a time," former Dolphins CEO Mike Dee once said of the practice.
The NFL argues that changing the rule would hurt fans by forcing the league to push free network television-broadcasted games onto cable in order to stay commercially viable. "Pay-TV lobbyists want to change the rules to charge fans for football games that, right now, you watch for free on local television," reads a message on the NFL's website. "Don't let them get away with taking away our NFL games."
Wheeler's not buying it.
"To hear the NFL describe it, you would think that putting a game on CBS, NBC or Fox was a money-losing proposition instead of a highly profitable multi-billion dollar business," Wheeler said. "If the league truly has the best interest of millions of American fans at heart, they could simply commit to staying on network television in perpetuity."
After all, a family of four spends about $500 going to a game. And, in case you might have forgot, the NFL is technically a non-profit organization.
Wheeler said he is sending a proposal to change the rules to his fellow FCC commissioners. They will vote on the proposal at the end of the month.
"The bottom line is the NFL no longer needs the government's help to remain viable, he said. "And we at the FCC shouldn't be complicit in preventing sports fans from watching their favorite teams on TV."
"It's time to sack the sports blackout rules for good," he concluded.
Daniel Rivero is a producer/reporter for Fusion who focuses on police and justice issues. He also skateboards, does a bunch of arts related things on his off time, and likes Cuban coffee.