The mysterious death of Argentine prosecutor Alberto Nisman has some worried that his case will join the growing pile of unsolved crimes in that South American nation.
Nisman was found dead in the bathroom of his apartment on Sunday night with a gunshot to the head, just hours before he was scheduled to appear before Congress to testify about the accusations against President Cristina Fernandez de Kirchner and several high-ranking government officials on their alleged secret dealings with Iran.
Government officials described Nisman's death as a suicide, but not everyone is convinced. Viviana Fein, the lead prosecutor investigating Nisman's death, said on Tuesday that initial tests showed no traces of gunshot residue on his hands, adding more intrigue to a case that has sent shockwaves through Argentina and the region.
On Monday night, thousands of Argentines protested outside the presidential palace and in other cities across the country. Some Argentines held signs that read "Yo soy Nisman", or "I am Nisman,", a slogan borrowed from "Je Suis Charlie."
G/O Media may get a commission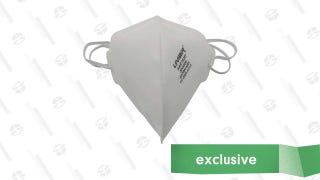 NIOSH CDC-Certified N95 Masks (10-Pack)
For many Argentines, the case has revived deeply entrenched frustration with perceived corruption and decades of bizarre and frequently unresolved killings, "suicides" or disappearances involving people linked to political scandals or politically sensitive investigations.
Here's a look back at some of Argentina's more suspicious deaths in recent years:
1.) A message in his mouth. In 1998, the brother of a former aide to then-President Carlos Menem was found dead hanging from a rope, his mouth stuffed with a newspaper clipping about a bribery scandal involving the government and computer giant IBM. At the time, an Argentine judge was investigating allegations that IBM bribed government officials to win multi-million dollar contracts with a state-owned bank. The death of Marcelo Cattaneo was ruled a suicide, but polls showed many Argentines suspected foul play. Public skepticism was stoked by media reports that police failed to seal off the crime scene for days after his body was found by a fisherman.
2.) Residual filth from the 'Dirty War.' Argentine authorities are still investigating the 2006 disappearance of a torture victim who vanished after he testified against a former police officer in one of Argentina's "Dirty War" trials. Jorge Julio Lopez vanished a day before Miguel Etchecolatz, a former police commissioner, was sentenced to life in prison for the murder, torture and kidnapping during Argentina's 1976-83 dictatorship. Lopez's disappearance set off street demonstrations; his whereabouts are still unknown.
3.) Death of a journalist. One of the country's most notorious cases involved the 1997 killing of a magazine photographer who was investigating corruption. The photographer, Jose Luis Cabezas, was kidnapped then beaten, shot and set on fire in a case that gripped Argentina for months. Officials eventually accused a business tycoon with close ties to then-president Menem of ordering Cabezas' killing. But the businessman, Alfredo Yabran, never appeared before judicial officials to answer questions. Facing an arrest warrant, Yabran shot himself to death as police surrounded him at his rural estate. The circumstances of Yabran's death raised suspicions among Argentines, who wondered why a wealthy businessman with high-powered lawyers would kill himself rather than go to court.
4.) Suicide with his left hand? In the late 1990s, a retired Argentine navy captain was found dead with a bullet in his head days after he was questioned in an investigation into illegal sales of weapons to Ecuador. The case was a high-profile graft investigation that eventually led to President Menem being placed under house arrest after he was detained on charges of running an illicit arms smuggling ring. Horacio Estrada's death was ruled a suicide, but Argentine media questioned why he would shoot himself on the left side of his head when he was right-handed.
5.) Bullet holes in the helicopter? Another suspicious death involved Menem's son, Carlos Jr., killed in 1995. The official version is that he died after crashing his helicopter into high-voltage power cables. But years later, his father called for a murder investigation after new evidence surfaced suggesting the wreckage showed bullet holes. The case was never resolved.