In mid-August, a Salt Lake City, UT, police officer opened fire on a man as he ran away. Video of the shooting, which was released a week ago, quite clearly shows that officer aiming at and firing on the man as he flees. But, like so many other police officers, he won't be charged, after the district attorney ruled his use of force as "justified" last week.
Like so many other supposedly "justified" police shootings, officers pulled over Patrick Harmon, a black man, for an innocuous suspected crime. Harmon, police said, crossed over six lanes of traffic on his bicycle (that didn't have a rear light) before police stopped him. (The Washington Post noted that red rear taillights aren't, in fact, required in Utah.)

Police later discovered that Harmon, 50, had a warrant out for his arrest. According to the Salt Lake Tribune, Harmon pled guilty to felony assault in April, but didn't show up for sentencing—a fact he was certainly aware of as he begged officers not to take him to jail. Harmon fled as one officer attempted to cuff him. Less than 10 seconds later, he was on the ground with multiple bullet wounds.

Officer Clinton Fox, who fired the fatal shots, told investigators he was "terrified" by how close Harmon was to himself and other officers. All three cops who were present during Harmon's arrest and subsequent death, the Tribune noted, said Harmon threatened to cut them. A police report detailing the shooting indicated that Harmon turned towards officers before he was killed, apparently to pull something out of his pocket.

While police later found a knife at the scene, video of the shooting doesn't support Fox's version of events. It shows Harmon running with his back turned away from police officers before suddenly turning around—a seemingly nonthreatening gesture to see if he was being pursued. Fox, however, can be heard launching vague threats at Harmon.
G/O Media may get a commission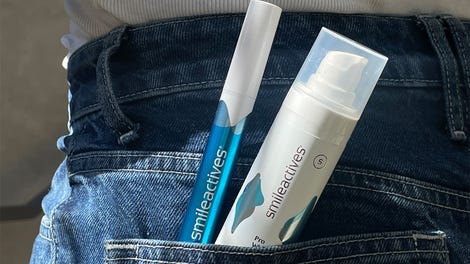 58% off
Whitening Powerhouse Pen & Gel Duo
"I'll fucking shoot you," Fox said moments before firing three rounds at Harmon. Another officer, the Tribune noted, fired a stun gun.
In a letter explaining his decision to clear Fox, Salt Lake City District Attorney Sim Gill acknowledged that the police report was inconsistent with body cam footage. But he still sided with the officers. "I wish everything was properly framed in ultra 4000HD so we could have it, but that's not the luxury I have," Gill told the Post.
"While the officers were in very close proximity to Mr. Harmon, he presented an opened knife as he turned towards the officers who were running at him," Gill wrote. "Officer Fox reasonably believed deadly force was necessary to prevent death or serious bodily injury to himself and/or others and therefore his use of deadly force was 'justified' under Utah State law."
On Sunday, protesters rallied in Salt Lake City demanding that Gill be fired.
"Every time I see that first few seconds, I see something that makes me incapable of continuing," one of the protesters, Ian De Oliveira, said. "I see a man who knows what the future holds for him in that situation... I see that this is a man who knows that he's staring death in its face. I see a man who's terrified."
Below is body cam footage of the shooting. Warning: the video is graphic.