On Wednesday night video emerged from the D.C. antifascist activist group Smash Racism DC that showed protesters outside what seemed to be the house of Fox News personality and noted racist Tucker Carlson. A video, posted by Breaking911, shows a group of protesters outside a home, where they apparently rang Carlson's doorbell. The group also allegedly posted Carlson's address on their Twitter account, though it was deleted after the story was reported by The Daily Caller.

Speaking through a megaphone, one activist seemed to blame Carlson for promoting "an ideology" that has led to "thousands of people" dying at the hands of the police, while another referenced the recent mail bombs sent by Cesar Sayoc Jr. and the anti-Semitic synagogue shooting in Pittsburgh. The protesters then began to chant, "Tucker Carlson, we will fight, we know where you sleep at night!"

The incident was another in a string of confrontational protests—some aimed at Carlson—that have targeted right wing politicians and media in past months. The same group posted a video back in September showing activists yelling at Senator Ted Cruz in a restaurant.
Right-wing media and online personalities immediately picked up the story, labeling the group of protesters a "mob," and bemoaning the "terrorists" of the far left.
G/O Media may get a commission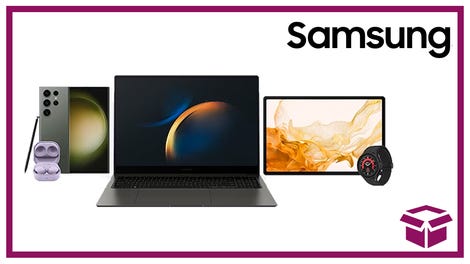 24 hour deals
Discover Samsung - Daily Deal
Carlson, long a bowtie wearing media dipshit, has stepped up his racism game in the Trump era, regularly inviting guests on his show who spew white nationalist talking points and frequently fear-mongering over immigration.
"No nation, no society, has ever changed this much this fast," Carlson said, incorrectly, about American immigration on his show this March. "Before you start calling anyone bigoted, consider and be honest: how would you feel if that happened in your neighborhood? This is more change than human beings are designed to digest. This pace of change makes societies volatile."
One of Carlson's favorite topics in recent weeks is the "caravan" of Central American migrants currently making its way through Mexico.
"In the minds of the people who make our country's rules, foreigners are always superior to Americans," Carlson warned in one segment last week. He goes on to suggest that CNN host Don Lemon wants to put white men in concentration camps and warns that columnists like the New York Times' Michelle Goldberg are willing to "replace" "Americans" with "new people." He doesn't specify who these "new people" are, but I have a feeling they aren't white.
The idea that the migrant caravan was part of a Jewish conspiracy to displace white people in America was one of the motivations behind suspect Robert Bower's attack on the Tree of Life synagogue in Pittsburgh, where he killed 11 people on October 27th, in the deadliest anti-Semitic attack on American soil. Carlson's segment on the caravan aired on Halloween, just a few days after the attack.
The right can try as hard as they want to push their narrative about dangerous Antifa mobs and their protest tactics, but by now it's clear who the real terrorists are—and who they listen to.
Update, Thursday, 1:30 am: It appears that Twitter has suspended the account of Smash Racism DC, the group who organized the protest in front of Carlson's house.