Twenty-five protesters were arrested on Thursday after attempting to deliver a petition at Wal-Mart heiress Alice Walton's Park Avenue condo demanding the retail giant provide better conditions for its workers and set an example for other big-box chains to follow.
Although Wal-Mart does not have stores in New York City, the Retail Action Project (RAP) whose parent union, the Retail, Wholesale and Department Store Union, helped organized the protest, said in a statement that "the Walton family has helped bring Wal-Mart's worst employment practices to fast-food chains and non-union retailers here."
The Walton family maintains the controlling interest in Wal-Mart.
The 2012 median annual pay for retail sales workers was $21,410, below the federal poverty line for a family of two adults and two children of $23,624. As many as 525,000 full-time hourly employees earn less than $25,000 a year, according to Bloomberg.
G/O Media may get a commission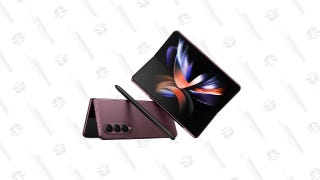 Save Up to $300
Galaxy Z Fold4
Thursday's protest coincided with marches across the country this week by health-care and fast-food workers planned under the umbrella of the "Fight for 15" movement. Those workers seek a living wage of $15 and the right to form a union. Fusion talked to Paula Gibbs, a mother of two and Georgia resident who has worked as a home care assistant for 25 years. She currently earns $9 an hour, and said her wages haven't kept up with the rising cost of living. She currently has no healthcare.
"We're not asking for much," she said.
On Wednesday, Wal-Mart CEO Doug McMillon said the company plans to end minimum-wage pay at some point.  "It is our intention over time that we will be in a situation where we don't pay minimum wage at all," he said according to the Wall Street Journal.
In a statement to Fusion, a Wal-Mart spokesman said:
"It's a shame that some people still have a fundamental misunderstanding of the jobs and opportunities we provide. Walmart provides associates with more opportunities for career growth and greater economic security for their families than other companies in America. Both our full and part time workers get bonuses for store performance, access to a 401K-retirement plan, education and other benefits. Last year alone we promoted more than 170,000 associates to jobs with higher pay and more responsibility."
Right now, only a handful of states demand minimum wages significantly higher than the federal floor of $7.25. In some states workers can be paid even less. Here is a heat map of minimum wages by state:
According to the Bureau of Labor Statistics, health care workers, fast-food workers and retail employees are projected to see the largest growth through 2022 among all U.S. occupations. In other words, a disproportionate number of new jobs that the economy will create will be in low-wage positions.
The White House has urged Congress to raise the federal minimum wage to $10.10 from $7.25. Minimum wage questions will also feature on Nov. 4 ballots in five states — Alaska, Arkansas, Illinois Nebraska, and South Dakota.
@fusion