The Mexican cartel boss Joaquín "El Chapo" Guzmán may have the reputation of a ruthless killer, but, believe it or not, he also has a fanbase.
Roughly 1,000 people dressed in white marched on Wednesday through the streets of Culiacan and Guamuchil, two towns in the northwestern Mexican state of Sinaloa, the heart of Guzmán's operations.
The message: set El Chapo free.
Over the weekend, Mexican and U.S. authorities collaborated in the capture of the prominent drug trafficker, who had managed to evade law enforcement for 13 years. Now he'll face the legal system in Mexico and a possible extradition to the United States.
Not everyone is happy about that. After his arrest, backers on Twitter used the hashtag #FreeElChapo to show their support.
G/O Media may get a commission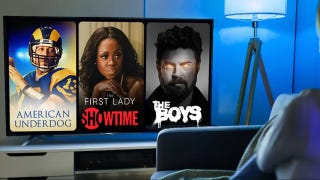 UNDER $1
99¢ Prime Video Channels
Guzmán's rags-to-riches story is part of the appeal: in a country where roughly 63 million people live at or below the poverty line, his ascent could be considered enviable, if not admirable.
That sentiment carried over at the gathering on Wednesday, where some women even joked that they wanted a son from the drug lord.
Sólo en México! Imagen d la marcha en Culiacán #Sinaloa a favor del Chapo Guzmán @FansDeMiyagi @jairocalixto pic.twitter.com/dticgPa8Xg— No mas corrupción (@anticorrupcion_) February 27, 2014
The protesters marching in favor of El Chapo also distributed a letter explaining why they are supporting one of the world's most-wanted criminals. Here are some excerpts of the letter, which was written in Spanish and published in its entirety on Sinembargo.mx:
"Those of you who criticize El Chapo and his organization surely have not suffered from the lack of opportunities that prevails in rural and urban settings."
"Poverty…forces people to admire people like EL Chapo, why? Because the federal, state and municipal governments have not managed to promote the well-being of people in the city and the countryside."
"El Chapo and the drug trade provide employment opportunities that pay well. A dream come true, in places where the government does not lend a helping hand."
Local politicians had mixed reactions towards the march, with the mayor of Culiacan calling it a "sick joke."
Since the arrest, residents of Culiacan have expressed trepidation, wondering what comes next. El Chapo may have been an internationally known criminal, but many viewed his Sinaloa Cartel as better than other more violent gangs in Mexico. His presence kept those traffickers out.
"We felt a certain security, knowing that they were protecting us," one local school teacher told Fusion.
In an interview with Mexican Network Televisa, Sinaloa State Governor Mario López Valdez said he was surprised by the outpouring of support for El Chapo, who is thought to have ordered the murders of hundreds, if not thousands, of people in his efforts to control drug smuggling routes on the U.S. border.
But Governor López also hinted that some of the people in El Chapo's march might have been paid to participate and mobilized to Culiacan from nearby towns.
"No one said that they were forced to go, but there was cash handed out, tamales, water, and in some spots people were even getting beer," the governor said.
According to local media reports, men in pickup trucks were also handing out shirts with messages like "We Love el Chapo" and "701," which was El Chapo's ranking on a Forbes list of billionaires in 2009.
Protesters also expressed fears that El Chapo's demise would bring more violence to Sinaloa, as rival cartels try to take over the kingpin's turf.
Regardless of how spontaneous this march was, or who was behind it, the incident does shed light on the complex relationship between organized crime and the citizens of Mexico's poorest areas.
According to Javier Valdez, from the Sinaloa newspaper Rio12, the government's lack of presence in the poor areas of the Sinaloan highlands has created a power vacuum that drug traffickers have filled for the past nine decades.
Valdez said on Mexico's MVS radio that Tuesday's march reflected how drug dealers have reached a high level of "acceptance" in Sinaloan society and also showed how they have become "deeply rooted" in that state's culture.
"The narco can be your neighbor or the father of the kids who go with your kids to school," Valdez said. "We have invited these people into our homes…and we deal with narcos every day."
The show of support for El Chapo in Sinaloa contrasts with what has been happening in other parts of Mexico like Michoacan, where vigilante groups have been fighting drug cartels that were also kidnapping civilians and taxing local businesses.
The letter distributed at Wednesday's protest also had something to say about drug traffickers who enter the realm of violent and destabilizing crime:
"We write about drug trafficking because that is El Chapo's business," the letter says. "Extortion, kidnapping, etc, those are actions taken by people who have damaged the name of this business."
Update, 2/27/14, 5:30 p.m.: Due to an editing error, an earlier version of this story said the protest took place on Thursday, when it actually took place on Wednesday.
Manuel Rueda is a correspondent for Fusion, covering Mexico and South America. He travels from donkey festivals, to salsa clubs to steamy places with cartel activity.