TAMPA—Every Election Day, Florida causes a ton of stress for the rest of America—at least, according to Vice President Joe Biden.

"I don't know how the heck you guys work this out, but it gets down to Florida, Florida, Florida," Biden said in Tampa last week during a speech supporting Democratic presidential nominee Hillary Clinton. "Not a joke."
Sixteen years later, the George W. Bush v. Al Gore election of 2000—which left the nation hanging in limbo for weeks over a mere 537 votes in Florida—looms large in the state's consciousness. Biden urged Floridians not to do a repeat. "You all do your job, we all get to go to bed early Tuesday night," he said.

Biden was talking to the right people in the right place.
Hillsborough County, whose county seat and largest city is Tampa, is known as one of the swingiest counties in Florida—the must-win swing state for anyone who wants to become president. No candidate has won Florida in a presidential election without winning the county since 1960, so whoever gets the most voters, here, will likely call the White House home.
And thanks to shifting demographics, Latinx voters seem to hold the key to victory in this county. In particular, Florida's Puerto Rican population—who mostly live on the strip of land around Tampa and Orlando known as the I-4 Corridor—has increased by 110% since 2000. There are now more than 1 million Puerto Ricans, here, making the state's Boricua community rival that of its longtime stronghold of New York, according to the Pew Research Center.
G/O Media may get a commission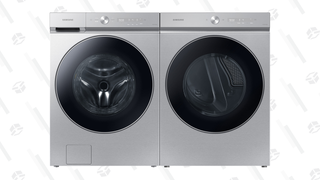 Get $500 back in credit
Last Chance: Samsung Bespoke AI Washer and Dryer Preorder
In already left-leaning Orlando, proof of this rising clout is seen in Democrat Darren Soto, who is vying to become the first person of Puerto Rican descent from Florida to serve in Congress. In Tampa, specifically, you can see it in how Puerto Ricans are emerging as a deciding voting bloc in the closely contested Hillsborough County.
"Tonight, I think we're going to see the Puerto Rican community in Florida turn into the new national Hispanic power when we talk about voting groups in the U.S.," Christina Hernandez, spokesperson for Que Vote Mi Gente, a nonprofit that helps register would-be Latinx voters in Central Florida, told me in Spanish. "Here, our votes have double the impact."
Nearly half a million Puerto Ricans have moved to Florida since 2000, and this migration has picked up speed in recent years, as they flee the island's spiralling economy. Their presence is changing Florida's political reality.
Unlike black voters, Puerto Ricans—who are American citizens and immediately have the right to vote upon arrival on the mainland—haven't historically been a monolithic voting bloc, according to University of South Florida political science professor Susan MacManus. But aggressive registration efforts by groups like Que Vota Mi Gente and Mi Familia Vota are turning Puerto Ricans into a Democratic-leaning group in Central Florida, which Republicans have complained about.
"The Democrats have really beaten Republicans to the punch in terms of registering the new arrivals," MacManus told me. "Hillsborough County now has more Puerto Ricans than Cubans. That's the biggest change here in terms of the composition of the Hispanic vote since the 2012 election."
Statewide, Puerto Ricans are projected to soon overtake traditionally conservative-leaning Cubans as Florida's largest Hispanic group. And the more non-Cuban the state's Hispanic population gets, the more it tends to lean Democrat, according to Pew.
Florida saw impressive turnout for early voting, setting records across the state—and Democrats seem to be benefitting most. About 2.6 million Democrats voted via early voting or mail-in ballots, compared to 2.5 million Republicans, the Florida Division of Elections reported. Records for early voting were set in Hillsborough County, according to the county's Supervisor of Elections, with registered Democrats holding a 28,000-vote margin over registered Republicans. Other key parts of the state, including Miami-Dade and Broward Counties, also set early-voting records that heavily favor Democrats.
What's more, Latinx voters showed up to the polls like never before, experts say.
About 36% of Latinx voters who voted early or by mail this election have never voted before, estimated Daniel Smith, an election datahound at the University of South Florida. With the growth rate of the state's Puerto Rican population outpacing that of both the general and overall Latinx populations, Puerto Ricans are likely widely represented among these new voters.
"I've been here for 40 years, and this is the first time I vote," Jose Guzman, 65, told me in Spanish, while walking into Precinct 223 in the Puerto Rican neighborhood of West Tampa.
His wife Teresita, 62, voted decades ago on the island where they're originally from, but this is the first time she's come out in years.
"Donald Trump is against Hispanic people, and yes, we're American citizens," she told me in Spanish. "But if he's against them, he's against us."
Daniel Rivero is a producer/reporter for Fusion who focuses on police and justice issues. He also skateboards, does a bunch of arts related things on his off time, and likes Cuban coffee.