How much longer will the people of Puerto Rico have to live with failed economic policies? It must be clear by now that the Commonwealth reliance on U.S. corporate tax preferences for U.S. companies locating operations there ran its course many years ago. Low tax rates matter to foreign investors, but it's time for Puerto Rico to expand its horizons well beyond the United States. Rather, the Island should consider the example of Ireland, which a generation ago was the poorest member of the European Union (EU) – and became one of its most prosperous members by 2006.
In the late 1980s, Irish policy planners recognized that the fastest way to modernize their economy and turbo-charge productivity and growth was large-scale foreign direct investment (FDI). They also knew that with scores of middle-income countries vying for FDI, Ireland needed a comparative advantage. So they offered up Ireland as a low-wage, low-cost platform for multinationals from everywhere but Europe to enter the huge EU market. But they also had to make Ireland the most attractive place in the region for foreign investment. So in addition to the tax breaks that countries offered, the Irish government ramped up its public investments in modern infrastructure, they created 10 "enterprise zones" for foreign investors and equipped each zone with a new institution for advanced training and education, and they rolled out an array of special services and subsidies for foreign multinationals. The program even included helping foreign companies find the best locations and workers to meet their needs and providing relief from selected regulations and taxes for individual companies.
From 1987 to 2006, more than 1,000 multinational companies established new facilities in Ireland, including Microsoft, Dell, and Citicorp. The country's real GDP grew at an average annual rate of 6.9 percent over that period, unemployment fell from 17 percent to 4 percent, the brain-drain of highly-educated young Irish was reversed, and the government's debt as a share of GDP declined from 112 percent to 33 percent.
Like Ireland and the E.U., Puerto Rico and the mainland United States share a common currency, and virtually everything made in the Commonwealth enters U.S. markets without cumbersome customs and other import regulation. In short, Puerto Rico has a real opportunity to attract large-scale FDI from around the world by offering itself as a low-wage, low-cost platform for multinationals from Latin American, Asia and Europe to sell into the huge American market.
To succeed as Ireland did, Puerto Rico will have to undertake a comparable commitment to undertake difficult spending and tax reform, including targeted increases in public investments in education and infrastructure while still bringing down budget deficits. The Commonwealth government also must repair its tattered image with large foreign investors. To restore their confidence, Puerto Rico must step back from a possible debt default and from proposed changes in its bankruptcy laws to word off technical defaults by its public utilities. In this context, Puerto Rico also can ill-afford widely-publicized controversies that cast doubt on the Government's commitment to keeps its word, such as current efforts by the Commonwealth Treasurer to negate its legal agreement to provide tax credits for tax over-payments to one of the Island's major financial institutions, the Doral Financial Corporation.
G/O Media may get a commission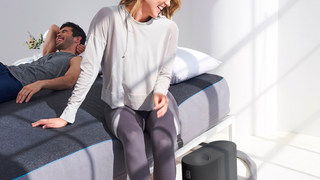 Eight Sleep Pod Cover
The alternative is that the future for Puerto Ricans will look much like their present and recent past. After nearly a decade of stagnation and recession, the economy is 13 percent smaller than it was in 2004 – compared to Puerto Rico's 13 Caribbean neighbors, which have averaged 2 percent annual GDP growth over the same period. That's unsurprising. Business investment has grown in Puerto Rico at half the rate as elsewhere in the Caribbean. Capital flight has accelerated: foreign financial flows have been negative since 2006; and more recently, FDI flows turned negative as well. Unemployment is double the rate of the U.S. and nearly percent among the young, and the labor participation rate is the lowest in the Western Hemisphere. Moreover, public debt has soared from 66 percent of GNP to 96 percent, and both Moody's and Standard & Poors rate the Commonwealth's bonds as junk.
Here's what ought to be the bottom line: While the per capita income of the Irish people increased from 60 percent of the EU average in 1987 to 136 percent of the average in 2003, per capita income in Puerto Rico today is seven percent less than it was in 2006. The choice – a hard road to long-term prosperity or the easy road to further decline – is Puerto Rico's.
Dr. Robert Shapiro, former Under Secretary of Commerce for Economic Affairs in the Clinton administration is chairman of Sonecon, LLC, an economic advisory firm in Washington D.C. He is also an advisor to the Doral Financial Corporation and the International Monetary Fund.
Simon Rosenberg is president of NDN, a Washington-based think tank, which works on US-Latin America policy issues.
@fusion