Several months ago, Marco Zappacosta was the uncontested king of the hill. His local services start-up, Thumbtack, was dominating its segment of the market, expanding at breakneck pace, hiring big-name executives, and riding a whopping $100 million fundraise from the likes of Google Capital, Tiger Global Management, and Sequoia Capital.
Today, Thumbtack—which helps users find babysitters, dog-walkers, house painters, and other service providers in their neighborhood—is facing steep competition from the likes of Google and Amazon, both of which are entering the home-services market with offerings of their own. Google's home-services unit will reportedly launch later this year; Amazon's is already up and running. It's a classic David-and-Goliath case. And both Goliaths are gunning straight for Thumbtack.
That puts Zappacosta in the position many unlucky start-up founders have faced over the years. What do you do when two of the world's biggest companies decide to move in on your turf? (In Zappacosta's case, the battle is even more complicated, since Google Capital is one of Thumbtack's investors, and had told him previously that Google didn't plan to compete with Thumbtack.)
G/O Media may get a commission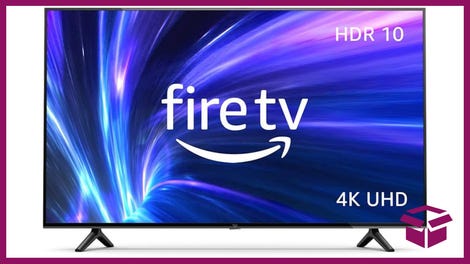 42% Off
Amazon Fire TV 50" 4K Smart TV
I spoke to Zappacosta, and asked him how he's handling his new competition.
It must be nerve-wracking, seeing Google and Amazon moving into the local-services business. How do you feel?
It's double-edged. On one hand, it's validating. These guys aren't idiots. They pick their bets very carefully.
Do I want to compete with the biggest, baddest Internet companies around? No. But we're game.
Did Google Capital lie to you, when they said that Google wasn't going to compete with Thumbtack?
Google Capital as a distinct entity has no power to dictate what Google does or does not do. They did say, "We actively work hard to not invest in things that will be competitive in the short or medium term." I believed them when they said that.
The [Google] effort today looks small. The fact that it's eight people out of a company of 60,000 is real, but it's also not necessarily the threat it could be. But [Google Capital] never joined our board. They never had that type of access, because we knew that was a risk.
You thought they might compete with you?
They'd be idiots not to try this at some point. There aren't that many markets that can move the needle for them.
So you have no regrets about taking Google's money?
Not yet.
What would make you change your mind?
We'll see. At this point, nothing we've said to them has made it beyond [Google Capital's] walls. We don't believe their investment caused them to take on this project. And it's a big company that does a lot of stuff. But I'm willing to revise my opinion.
If you had to pick either Amazon or Google to compete with, who would you pick?
Well, I don't know if you read Brad Stone's book about them, but Jeff Bezos has this obsession with building "the everything store." And services is a big part of "everything." Today, it's primarily tied into the marketplace, but you can imagine this being a full-fledged marketplace that stands on its own. They're going to keep coming until they resoundingly get beat, or take over.
Amazon's challenge is that it has a bit of a strategy tax, when it's trying to fit services into its SKU-driven marketplace…services, by and large, will not be shopped for in that manner. Imagine the case of a wedding photographer. That's a fairly delicate choice. It's never something that's going to be pulled off a shelf blindly.
Google's challenges are different. It's not as encumbered with an existing platform. Its challenge is more fundamental. It's tried and failed at this before.
Are you worried about these big, rich companies poaching your employees?
Not really. The reason people are at Thumbtack is because they're excited to be part of something high-impact and high-growth. Neither Google or Amazon can provide that.
Have you gotten any advice from other start-up founders who have experienced this phenomenon?
The words of encouragement I got from someone is: if Google, Amazon or Facebook isn't in your market, you're probably doing something wrong.
We no longer have any start-up peers that are at all threatening. It wasn't a surprise, and it was invigorating in some ways. It's like, game on.
Be honest: what was your first reaction, when you heard about Google and Amazon's plans?
I felt like, Okay, we got to the last level of the video game. These are the end-stage bosses, you know? You beat these guys, you save the princess, and you go home.