PHOENIX—The campaign to oust Republican Sheriff Joe Arpaio has a new ally.
He's a brown, queer, undocumented Latinx in drag who just released a Selena-themed music video aimed at convincing Arizona's LGBTQ community to get out to vote against Arpaio.
"This is about putting the queer narrative in the forefront," said Jerssay Arredondo, the star of the video, who goes by the stage name FreeDa Puta.
The music video, a remake of Selena Quintanilla's 1992 music video "Baila Esta Cumbia," is an all-volunteer labor of love. Arredondo's friends play the roles of extras and dancers and shot the video in their homes. It was produced by local music video director Mike Cassidy.
"Vote / Vote with this Cumbia / Vote so that they won't deport us," Arredondo sings in the music video.
The video was released today thanks to a partnership that Arredondo, 24, formed with the Bazta Arpaio campaign, which is trying to mobilize voters of color to help end the controversial sheriff's 23-year tenure.
G/O Media may get a commission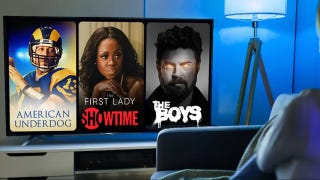 UNDER $1
99¢ Prime Video Channels
Sheriff Arpaio, 84, is trailing Democratic challenger Paul Penzone by nearly 15 points in an October Arizona Republic/Morrison/Cronkite News poll. The surveys were conducted as federal prosecutors announced they were filing a criminal contempt charge against Arpaio in a racial-profiling case. Another poll conducted in August also found 57% of Maricopa County respondents had an unfavorable opinion of the incumbent sheriff, despite the Arpaio campaign's insistence that they're doing well in internal polling, according to NPR.
In any event, the Bazta Arpaio campaign knows that the only poll that really matters is on Election Day. Which is why they're pulling out all the stops with Arredondo's video just four days before the vote.
Arredondo was born in Mexico and entered the United States illegally at the age of three with his mother. He can't vote but says he's doing his part in this election because he has felt targeted by the Sheriff's officers, especially when they patrol the neighborhood with gay bars.
The idea behind the Bazta Arpaio campaign is that the people whom Arpaio has targeted are now targeting him.
Arredondo started working on political campaigns in Phoenix a decade ago when he started organizing for the DREAM Act. He says he noticed a lot of local immigrant rights campaigns around the country being led by LGBTQ and gender non-conforming organizers that weren't able to bring their entire selves into their work.
"We couldn't be queer in some immigrant rights campaigns that we were leading," Arredondo said. "Our queer and trans identities are always the first negotiating piece, 'We'll give you this but this has to go'."
As a result, Arredondo says organizers like him were forced to start their own campaigns. He's currently working with Familia: Trans Queer Liberation Movement, a national LGBTQ Latinx rights organization.
"If we are becoming the majority we need to start addressing the issues facing some of the most vulnerable members in our community—addressing the needs of queer, trans and latinx folks."