Marching band members at East Carolina University in Greenville, NC, recently joined many other athletes and students around the U.S. when they kneeled during the national anthem to protest police violence and support professional football player Colin Kaepernick.
That simple act has made one local radio station so mad, they're just not going to broadcast the school's football game this week.
ESPN Fayetteville, a local radio station that broadcasts the teams' games, posted a lengthy statement on its Facebook page Wednesday saying that it would forgo airing this weekend's game in response to the band members' actions, which it called "shameful."
G/O Media may get a commission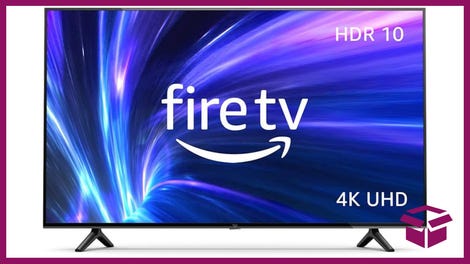 42% Off
Amazon Fire TV 50" 4K Smart TV
ESPN Fayetteville is technically an ESPN affiliate owned by a company called Colonial Media and Entertainment rather than Disney. Jeff Androulonis, CEO of both Colonial and ESPN Fayetteville, said in the statement that he wants to teach the ECU Band a lesson on the consequences of free speech.
"The band members could have quietly protested in the early morning hours before the game, but that would have required them to wake up early." Androulonis said. "So instead they choose to make a spectacle of themselves in front of the big crowd at Dowdy-Ficklen."
Androulonis is the CEO of a media company, so it stands to reason he knows a few things about getting a message out. But protests conducted during hours where no one is paying any attention to you typically don't fare very well.
The station's statement went on to say that all of the station's sponsors are cool with skipping the game, and that this is only a one-time boycott of ECU.
The radio station's stand against the plague of anti-establishment marching bans comes as the college itself seems to be hardening its tone against the student musicians. In an initial statement released last weekend, ECU's Chancellor Cecil Staton seemed to welcome the protest.

As an institution of higher learning, East Carolina respects the rights of our students, staff and faculty to express their personal views. That is part of the free exchange of ideas on a university campus. While we acknowledge and understand the disappointment felt by many Pirate fans in response to the events at the beginning of today's football game, we urge all Pirate students, supporters and participants to act with respect for each other's views.
But in a separate email released on Monday, signed by the school's band director, director of the School of Music and the dean of the College of Fine Arts and Communication, college officials said they now regretted the students' actions.
"While we affirm the right of all our students to express their opinions, protests of this nature by the Marching Pirates will not be tolerated moving forward," the e-mail stated.
Between the university telling them when they can't protest and the radio station shutting down broadcasts of the football team, I'm sure the students on the band feel like their free speech rights are well-protected.