Sen. Rand Paul has decided to join Snapchat.
Yep, you read that right. The Kentucky Republican and presidential hopeful is joining the social messaging service, ostensibly to make himself more popular with the youngins in the run up to 2016.
"Snapchat will allow everyone to follow the senator as he travels around the nation and spreads the message of liberty," Paul spokesman Sergio Gor told Politico's Playbook Wednesday morning.
It's a service where Paul should feel right at home. Like bipartisan deals in Congress, the photo messages on Snapchat disappear within 10 seconds.
And surely Paul is aware that Snapchat just hired a powerhouse Democratic lobbyist in the wake of a massive data breach that affected as many as 4.6 million users. After all, he loves speaking out about privacy issues.
It should go without saying; there's a huge NSFW appeal to Snapchat. But it's worth giving an extra word of warning to Paul because several of his colleagues have had a problem with that sort of thing (again, NSFW).
G/O Media may get a commission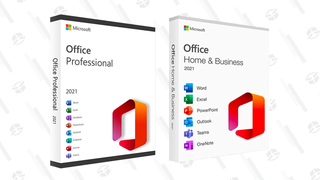 89% off
Microsoft Office Professional 2021 Lifetime License
Snap away, senator.
Update, 12:31 pm:
Here's Paul's first snap, courtesy of Elise Foley.
Jordan Fabian is Fusion's politics editor, writing about campaigns, Congress, immigration, and more. When he's not working, you can find him at the ice rink or at home with his wife, Melissa.