Rand Paul announced back in March that he was opposing the confirmation of CIA director Mike Pompeo as Secretary of State and Gina Haspel, a torturer, to replace him at the CIA. "It goes against most of the things President Trump campaigned on, that the unintended consequences of regime change in Iraq led to instability in the Middle East," Paul said of the nominations.

At the time, it looked like those votes might actually count for something—particularly the Pompeo vote, considering Paul sits on the Senate Foreign Relations Committee, which considers whether or not to recommend his confirmation to the full Senate, and where Republicans have just a one-seat majority.
And since then, the two Democrats who sit on that committee and who voted for Pompeo's confirmation as CIA director, Jeanne Shaheen of New Hampshire and Tim Kaine of Virginia, announced that they opposed Pompeo's confirmation.
With Paul's opposition and unified opposition from Democrats on the committee, Pompeo was set to become the first State nominee not to receive a favorable vote from committee since at least 1925. In the past few days, however, three Senate Democrats up for re-election in states Trump won—Joe Manchin of West Virginia, Heidi Heitkamp of North Dakota, and Joe Donnelly of Indiana—announced their support for Pompeo, virtually assuring his confirmation by the full Senate no matter what the committee said.
Trump has also personally put pressure on Paul to vote for Pompeo. "He's never let me down," Trump told reporters last week. "Rand Paul is a very special guy, as far as I'm concerned. He's never let me down, and I don't think he'll let us down again. So let's see what happens." Then, earlier today, Trump tweeted about the Pompeo confirmation:
G/O Media may get a commission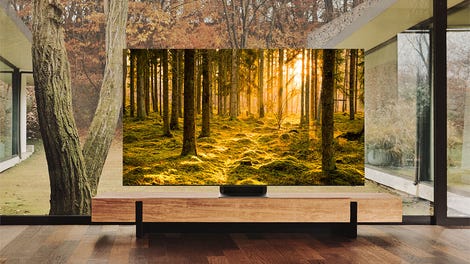 Up to 40% off
Samsung Smart TVs
So Paul—now not having nearly as much leverage as he did last week—did an about face right before the committee's vote today, and announced his support of Pompeo on Twitter:
The committee then voted 11-9 along party lines (Sen. Chris Coons of Delaware voted present) tonight to send Pompeo's nomination to the full Senate, where a guy who reportedly routinely discussed the rapture will in all likelihood be confirmed.
Paul's reason for changing his vote does not make sense. The main reason it does not make sense is because Donald Trump, contrary to the claim that Trump believes "we must end our involvement with Afghanistan," announced a troop surge last year that brought the total number of U.S. troops in the country to around 14,000.
Furthermore, Paul said back in March that he "cannot endorse [Trump's] nomination of people who loved the Iraq War so much that they want an Iran War next," and the same month, wrote in an op-ed for The National Interest about North Korea that "the Washington consensus continues to believe that sanctions and bullying brings adversaries to heel."
Pompeo, on the other hand, has aggressively opposed the Iran deal both as a Congressman and as CIA director. And in his testimony to the Senate Foreign Relations Committee last week, Pompeo said he could envision a ground invasion of North Korea. But now that he has the support of Paul and his fellow Republicans as well as conservative Senate Democrats, a man who also reportedly really loves talking about the rapture with his employees is all but certain to be the nation's next chief diplomat.
Look on the bright side, though: at least Rand Paul continues to not let Trump down. That's gotta count for something, right?