Governor Chris Christie's multi-decade, unrequited love of noted musician and fellow New Jersian Bruce Springsteen is no secret. But now, Capital New York has unearthed some gushing posts to a Bruce Springsteen fan list made by Christie that show the governor's public expression of that love has been going on for longer than previously thought.
The 15-year-old email listserv messages paint a portrait of a super fan who just wants to connect with the Boss over their shared roots, even going so far as to spend a "staggering" amount at a charity auction to obtain tickets for a show, and also cornering Springsteen in conversation on a fateful airplane trip.
The messages date back from 1999 and 2000 when Christie's rocket ride up the New Jersey Republican ranks was only beginning. Signed by "Chris," "Chris C.," and "Chris from Mendham, NJ," the emails describe shows and offer set lists to fellow obsessives.
In one "Chris C." conspires to potentially illegally bootleg an upcoming show with carefully worded code.

Date: Fri, 2 Apr 1999 19:35:14 EST
Subject: Tree for the Asbury Park Concerts?

Coulde someone please let me know if there is a tree forming for the Asbury Park Concerts?

I would be interested in participating and since I do not yet have the requisite equipment, I would gladly trade with blanks?

If anyone is interested please e-mail me privately at

Thanks LTDer's,

Chris C.
In the longest email to the group, "Chris from Mendham, NJ" describes a chance encounter on a Minnesota to New Jersey flight with the man himself. It's really depressing. The following has been abridged.

Date: Fri, 21 Jan 2000 12:32:22 EST

Subject: Brush with Bruce at 30,000 feet

We board the 11 am Northwest flight back to NJ the day after the show.  My wife and I are sitting in 1st row of 1st class and getting out our books out of our bags and putting the luggage away in the overheads.  From behind me I hear a voice say,"I think I'm sitting right back here."  I knew immediately—it was Bruce!

He was by himself—no Patty, no bodyguards—just Bruce, a baseball cap, jeans jacket, NY Times and Minneapolis Star-Tribune.  I immediately go off the deep end.
G/O Media may get a commission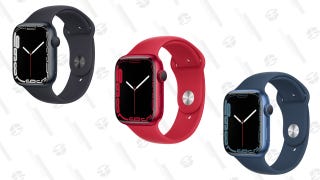 Up To $45 Off
Apple Watch Series 7
Due to a freak airport delay, Christie musters the courage to approach his idol. Christie tells Bruce Springsteen everything—the show was great, he and his wife are from New Jersey and their headed back there right now.

He said, "Me, too."
Christie then alleges that he and Springsteen talked about a show at Continental Arena (nee IZOD Center) after landing in New Jersey. Christie is punishing in the amount of detail he gives. He reports that Bruce remembered certain details from the concert in question and signs some autographs for Christie and his children before heading into the night.
It is almost possible to see Christie, laying on his stomach in bed, knees bent, legs kicking back and forth rhythmically as "10th Avenue Freezeout" plays on the hi-fi, typing away as he closes the email:

What an incredible time for me, a Bruce fan since 1976.

He was everything I hoped he would be if I ever got a chance to meet him—gracious and incredibly normal in a truly extraordinary way.  That was my Christmas gift.
(It is odd that Christie, obsessive that he is, writes he has been a fan since 1976 when he has previously claimed to have attended a 1975 concert at his alma mater Seton Hall. Did he not attend that Seton Hall concert? Did he attend the concert, but not as a Bruce fan? Is this Christie's Benghazi?)
Since Christie's rise to power, and since he  has never missed an opportunity to talk Springsteen and his desire to befriend the singer-songwriter, the left-leaning Springsteen has time and time again rebuffed the governor. The two did hug in the aftermath of Hurricane Sandy, which caused Christie to weep.
In 2014, Christie said that he hoped the two could still one day become friends. Last night, Christie revealed on Hannity that while he remained a fan of the Boss' music, the two Garden State residents were no longer friends. It is unknown when the friendship began.
Correction: This post has been updated to reflect that the hug between Obama and Christie happened following Hurricane Sandy.
David Matthews operates the Wayback Machine on Fusion.net—hop on. Got a tip? Email him: david.matthews@fusion.net