On Friday, actress Ellen Page published a Facebook post detailing her history of sexual harassment and assault in Hollywood.

Page has worked as a professional actor since she was 10 years old. When she was 18 years old, Page says director Brett Ratner outed her during a cast and crew meet-and-greet for X Men: The Last Stand.
"You should fuck her to make her realize she's gay," Page recalls Ratner telling a woman ten years Page's senior.
I was a young adult who had not yet come out to myself. I knew I was gay, but did not know, so to speak. I felt violated when this happened. I looked down at my feet, didn't say a word and watched as no one else did either. This man, who had cast me in the film, started our months of filming at a work event with this horrific, unchallenged plea. He "outed" me with no regard for my well-being, an act we all recognize as homophobic.
Rumors of Ratner's sexual abuse have been around for years. Earlier this month, six women came forward to the Los Angeles Times with stories of Ratner's harassment and assault. The actress Olivia Munn said Ratner once masturbated in front of her in his trailer, and later bragged about ejaculating on magazine covers featuring photos of her.
The actress Natasha Henstridge told the Times that Ratner forced her to perform oral sex on him when she was 19 years old. "He strong-armed me in a real way. He physically forced himself on me," Henstridge told the newspaper. "At some point, I gave in and he did his thing." (Ratner's attorney has "categorically" denied the claims.)
G/O Media may get a commission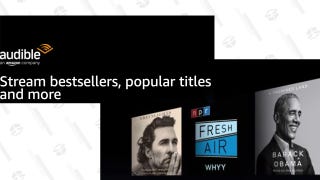 FREE
Audible Premium Plus 3-Month Free Trial
Ratner isn't the only man in Hollywood Page addressed in her post. She called her appearance in Woody Allen's 2012 movie To Rome With Love "an awful mistake."

I did a Woody Allen movie and it is the biggest regret of my career. I am ashamed I did this. I had yet to find my voice and was not who I am now and felt pressured, because "of course you have to say yes to this Woody Allen film." Ultimately, however, it is my choice what films I decide to do and I made the wrong choice. I made an awful mistake.
The post is worth reading in its entirety:

Page publicly came out as a lesbian in 2014, when she was 26. It shouldn't need to be said, but every queer person, young or old, has the right to come out on their own terms, to whomever they choose. Outing someone as queer against their will—especially a young person—puts that person in danger. (Yes, even in liberal Hollywood.) Not only that, it strips that young person of the agency to define their own identity. Like many acts of sexual violence, outing someone against their will is less about sex than it is about exercising control over someone less powerful than you.
No one deserves to be made a victim to their own life story. Ellen Page deserves to be known as an accomplished actor—known for the work she's dedicated her life to—not as just another woman who revealed horrible truths about just another powerful man. We can internalize Page's message without allowing it to define her.

Page's essay is the most eloquent I've seen in the wake of accusations against high-profile Hollywood figures. Her words are heartfelt and devastating, while also grounded in clear-eyed political activism. Ellen Page should run for office.