On Tuesday, the world's youngest ever Nobel Peace Prize Laureate, Malala Yousafzai, turned 19. She spent the day at Dadaab, the world's largest refugee camp, where she spoke eloquently about the importance of giving girls in refugee camps access to education. There are more than 65 million refugees in the world today, a historically high number of people forcibly displaced from their homes. According to the United Nations, 51% of those refugees are children.
The Dadaab refugee camp, close to Kenya's border with Somalia, houses more than 347,000 refugees, who could soon be displaced once again as the Kenyan government prepares to shut the camp down.
Malala was shot in the head by members of the Taliban in 2012 when she was on a school bus in her hometown of Mingora, Pakistan. Since the shooting, she's been global advocate for girls' education. This is the speech she delivered at Dadaab on Tuesday:
Bismillah hir rahman ir rahim. In the name of God, the most merciful, the most beneficent, who is the God of all mankind.
G/O Media may get a commission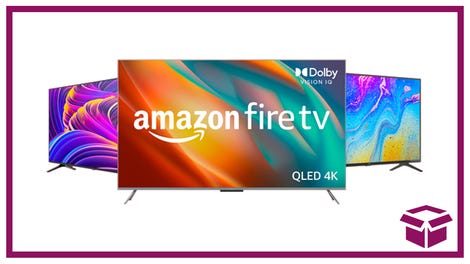 Ooh. stunning.
New Amazon Fire TVs
Every year on my birthday, I choose a region in the world where girls' education is neglected or needs attention. Unfortunately, issues around girls education are in many countries. Many girls in Pakistan and Afghanistan still cannot go to school while many Syrian girls are forced to get married in refugee camps.
On my 17th birthday, I spoke out for my Nigerian sisters abducted by Boko Haram, while last year on my 18th birthday, I decided to speak for my Syrian refugee sisters.
Today, I turn 19, and this year, I am here to speak for my unheard sisters of Somalia striving for education everyday in the refugee camp of Dadaab. I'm so happy to celebrate with my sisters and congratulate them on graduating from the Girls' First program which makes my birthday even more beautiful.
My brave sisters here are committed not only to their own education—but to fighting for the rights of all girls to go to school.
One girl graduating today is my sister Rahma. Rahma has fled her home twice to come to Dadaab—once to escape conflict in Somalia and once to follow her dream of education. Rahma first came to Dadaab as a young girl. When her family returned to Somalia, there was no school for her—so she came back here alone, to finish her education. There are many girls like my sister Rahma here today. And I am here to remind world leaders that all girls here matter.
Yes, all girls—girls here in this camp and girls who return home. Girls who fear violence in their classroom and girls who are forced to marry young. Girls in every corner of the world, poor or rich, white, brown or black, Christian, Muslim or Hindu, yes, all girls are important in this world.
We should not ask children who flee their homes to also give up their dreams. We must recognize that the young people in this camp are future leaders on whom we will all depend for peace.
My sisters and I believe that all girls, everywhere deserve 12 years of free, safe and quality education.
But the world is not listening today.
The world fails to recognize that it's not these children's fault that they are refugees. The world fails to understand that for any country to recover it is essential to invest in its future generation. The world fails to learn that the education of refugee girls and boys is as important as the education of their own children.
Even worse, I have been to the summits where the refugee crisis is discussed, where deals are made. But I didn't see you there. I did not see you getting the opportunity to tell the world what you need to build a better future for yourselves, your family and your country.
We will not accept a world where decisions about our future are made in rooms girls cannot enter.
We cannot talk about peace without your voice.
I am here to stand with you, as someone who knows what it's like to flee your home in the middle of the night, as someone who knows how it feels to have your right to education taken away and your dreams threatened.
And I promise to use my voice to tell your stories…and remind the world they have promised 12 years of education to all girls, everywhere.
The world has a shared responsibility to refugee children—but our leaders are not acting with the urgency this crisis requires.
For just $8.5 billion a year, every child affected by conflict could go to school. The world can easily afford it - and it is a great injustice that this money and more is not being spent to educate girls like Rahma.
Today is my 19th birthday—and my greatest wish is for the world to honor the right of every girl to go to school.
This is my dream—today and every day.
I urge people today, to join me in my campaign, that education is the right of all girls, yes, all girls.
Thank you.
Malala is traveling to refugee camps in Kenya and Rwanda this week with her non-profit, the Malala Fund, to discuss education for girls seeking refuge.