The United States has 2.3 million people behind bars, we have the world's highest incarceration rate. We even have more people in prison in the U.S. than in China, where they have four times the population.
The series "Orange is the New Black" is based on a true experience that follows women in prison, which is one of the fastest growing prison populations. So, it's only appropriate that one day before the premiere of the second season of "Orange is the New Black" we look at some of the numbers of women in prison.
The number of women in prison increased by 646 percent between 1980 and 2010, rising from 15,118 to 112,797.
If we include local jails, more than 205,000 women are now incarcerated. The female prison population is increasing at nearly double the rate for men.
(The Sentencing Project-PDF)
G/O Media may get a commission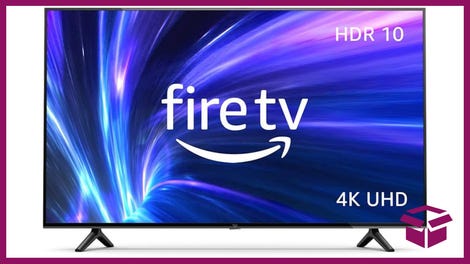 42% Off
Amazon Fire TV 50" 4K Smart TV
Two thirds of women in prison are there for non-violent offenses, many for drug related crimes.
(Women's Prison Association - PDF)
Oklahoma is the greatest incarcerator of women.
Oklahoma incarcerates more women per capita than any other state with 130 out of every 100,000 women in prison.
Massachusetts has the lowest rate of female imprisonment at 13 per 100,000 women.
(Women's Prison Association - PDF)
1 in 25 women in state prisons and 1 in 33 in federal prisons are pregnant when admitted to prison.
Women can be shackled during labor in at least 32 states. The majority of children born to incarcerated mothers are immediately separated from their mothers.
(The Sentencing Project-PDF)
Women in prison are more likely than are men to be victims of staff sexual misconduct.
More than three-quarters of all reported staff sexual misconduct involves women who were victimized by male correctional staff.
(The Sentencing Project-PDF)
Black women represent 30 percent of all incarcerated women in the U.S, although they represent 13 percent of the female population generally.
Latinas represent 16 percent of incarcerated women, although they make up only 11 percent of all women in the U.S.
(ACLU)
Transgender inmates are almost always housed according to their birth gender.
The two most common responses are housing transgender prisoners on the basis of their birth gender or placing them in isolation.
(American Academy of Psychiatry and the Law)
Some advice if you end up in prison:
"Orange Is The New Black" is based on the true story of Piper Kerman, who spent a year in prison after being convicted of drug smuggling and money laundering for a scheme she got caught up in 10 years earlier.
Kerman does have some advice for women entering prison: "Keep your mouth shut and your eyes wide open for the first few weeks," she told HuffPost Live.
The second season of "Orange is the New Black" premieres Friday morning on Netflix.
And stay tuned to Fusion.net because Andrea Herrera, better known as Kat Stacks, will weigh in on the show's accuracy—she knows a bit about women's prisons from personal experience..