Bridal experts recommend beginning the search for a wedding dress about a year before tying the knot, and actually purchasing the dress at least eight months before the Big Day. For the uninitiated (count yourself lucky), this timeline exists because dresses are usually custom-fit for the bride—none of this straight-off-the-rack crap—which can mean months of alterations.
It also means a bride better pray that from the time she buys her dress until her wedding day very little in her life changes. No weight gain, no pregnancy, no breakups—otherwise she'll have $3,000 (or much more) sitting in her closet taunting her.

Watch live Tuesday as Will Ferrell marries three real-life couples on The Chris Gethard Show.
Of course, in reality, things go wrong all the time before people commit to forever—and Shpock, a British app for selling second-hand clothes, has the evidence. A quick search of "never worn wedding dress" comes back with a trove of Big Day collateral damage and stories of women who now want to get rid of their gown now. Here are some of the most common reasons would-be brides never actually make it down the aisle.

1. The bride and groom break up
"Just want it gone"
"Wasn't the right man"
G/O Media may get a commission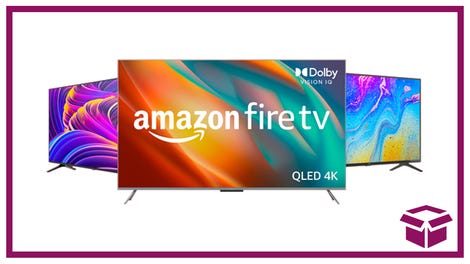 Ooh. stunning.
New Amazon Fire TVs
"Would love this to go to bride who loves it as much as I did"
"Wedding was cancelled abruptly"
2. Brides change their mind…a lot
"Panicked and bought another dress"
My fiancee, like all great women, is prone to "changing her mind"
"Chose a diff dress in the end!"
3. A bride's weight can fluctuate 
"[Fell] pregnant before wedding!"
"Too big and can't now return"
"Lost weight and bought another"
4. The dress doesn't arrive on time 
"Gorgeous … arrived too late for me to wear"
"Bought for a wedding abroad but arrived too late"
5. Random shit goes wrong
"On steroids for my asthma" 
"Unforeseen circumstances … such a shame for this dress to be sat at home"
"Plans have changed"
Taryn Hillin is Fusion's love and sex writer, with a large focus on the science of relationships. She also loves dogs, Bourbon barrel-aged beers and popcorn — not necessarily in that order.