After spending more than a quarter of her life behind bars for losing a child at birth in a country that's outlawed all forms of abortion, El Salvador's Carmen "Guadalupe" Vasquez was released from prison last night and reunited with her family for the first time since 2007.
"Those seven years were very long for me," Guadalupe said in a tremulous voice as she blinked back tears during a Thursday afternoon press conference in San Salvador.
"God willing, the other women in jail will soon be free like me," Guadalupe told Fusion in a phone interview. "I hope they will all be back with their families soon."
The 24-year-old housekeeper was slapped with a 30 year jail sentence for "aggravated homicide" after her pregnancy ended with an obstetric emergency at work. She was rushed to a public health clinic, and from there taken straight to jail, even though the cause of her baby's death was listed as "undetermined."
G/O Media may get a commission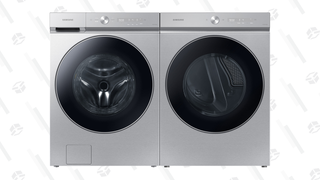 Get $500 back in credit
Last Chance: Samsung Bespoke AI Washer and Dryer Preorder
Lawmakers of the occasionally left-wing Farabundo Martí National Liberation Front (FMLN) finally mustered enough conviction and votes to pardon Guadalupe in an angrily divided Legislative Assembly last month. A second woman who was jailed in 2003 for a similar offense was also recently released after completing her 11-year sentence.
But the other 15 members of the group of incarcerated women known collectively as "The 17" might not be so lucky.
"What Guadalupe doesn't know yet is that we've already been told, unofficially, that the pardon requests for the other 15 women have been rejected," Salvadoran activist leader Jorge Menjivar told Fusion. "We're already studying what other legal options we have left."
Though Salvadoran officials have yet to make any statements about the fate the other 15 women, international rights organizations are already reacting to the anticipated announcement.
"Guadalupe's release should be celebrated as a victory and symbol of hope for women who have suffered under El Salvador's unjust laws, but instead it marks a day justice is being denied to the rest of these wrongfully imprisoned women," Nancy Northup, president and CEO of the Center for Reproductive Rights, said in a press statement today.
The fight for the release of all Salvadoran women "wrongfully imprisoned under these laws" remains unfinished work, Northup said.