Rep. Joe Crowley, the longtime Democratic Congressman from New York, is currently serving out the remainder of his tenth and final term in the House of Representatives. In January, he will be replaced by Alexandria Ocasio-Cortez, who became an overnight sensation when she beat the highly-favored establishment pick in the Democratic primary earlier this year.

But though Crowley is on his way out, he isn't done messing with the left wing of the Democratic Party yet. According to The Intercept, he was partially responsible for handing his current position as the House Democratic Caucus chair to Rep. Hakeem Jeffries, one of his proteges and a fellow centrist Democrat backed by Big Pharma money. Jeffries' challenger, California Rep. Barbara Lee, was the progressive pick for the position.
The Intercept reports that Crowley aided Jeffries' win by smearing Lee with misleading accusations that she donated to Ocasio-Cortez' campaign during the primary.
From The Intercept:
In the run-up to the vote, [Crowley] told a number of House Democrats that Lee had cut a check to Ocasio-Cortez, painting her as part of the insurgency that incumbents in Congress feel threatened by, according to Democrats who learned of the message Crowley was sharing.
There was a kernel of truth in the charge. Lee's campaign did indeed cut a $1,000 check to the campaign of Ocasio-Cortez, but did so on July 10, two weeks after she beat Crowley. Since then, Reps. Steny Hoyer, Raúl Grijalva, and Maxine Waters, as well as the PAC for the Congressional Progressive Caucus, have all given money to Ocasio-Cortez's campaign committee. It's not an unusual phenomenon — a way to welcome an incoming colleague — but Crowley's framing of it linked Lee to the growing insurgent movement, despite her decades of experience in Congress.
G/O Media may get a commission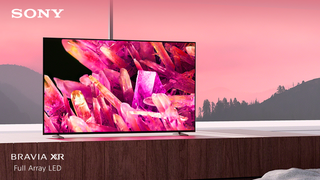 $400 off
Sony 55 Inch 4K Ultra HD TV X90K Series
Yesterday, Jeffries won the chairmanship with a vote of 123-113.
"Those rumors took place and that was very unfair," Lee told The Intercept when asked about Crowley's strategy. "We're moving forward now."
Lee disputed supporting Ocasio-Cortez during the primary, noting that she didn't even realize at the time that Crowley was being challenged. "I didn't even know he had a primary," Lee told The Intercept.
The Intercept's reporting also suggests that Crowley may have been part of the reason why Jeffries challenged Lee for the position.
"Hakeem is going to be around for a long time. Our good friend Joe Crowley was defeated. I think Joe probably mentored him a little bit toward this," said [New York Rep. Brian] Higgins.

Asked if that meant Crowley, who is closing out his 10th term in Congress, encouraged Jeffries to run against Lee, Higgins responded in general terms. "To what extent, I don't know, but I do know that he's a mentor and I think he helped him develop a strategy to succeed," said Higgins. "Here's what I know. Joe Crowley is the most popular guy on campus, with Democrats and Republicans. Joe has had a close relationship with Hakeem."
Supporters of Ocasio-Cortez and the progressive wing of the Democratic party were not pleased.
"This is exactly why we need more primaries—to have a Democratic Party that fights for its voters, not corporate donors," Waleed Shahid, a spokesman for Justice Democrats, a group who supported Ocasio-Cortez, told The Intercept. He called Crowley's strategy "absolutely despicable."
Before his primary loss, Crowley was favored to be the next Democratic Speaker of the House. Since the election, Lee's name had been floated by Ocasio-Cortez and other insurgent progressives as a possibility for Speaker, though for now it looks like Rep. Nancy Pelosi will most likely hang on to the position. Centrists in Congress, including Higgins, are now motioning towards Jeffries as another possibility.
"I think a lot of people are very high on Hakeem and his leadership potential, and this is what he chose to go for," Higgins told The Intercept.
"I think it puts him in a good position," Rep. Joaquin Castro of Texas, who backed Lee for Democratic chair, told The Intercept. "Certainly it gives him a good perch and folks like him. He's sharp, he's very committed, and I think he's got a very bright future."
Update, 12/4/18, 7:30 pm:
Lauren French, Rep. Crowley's Communications Director, send Splinter this comment: "Joe Crowley respects both Barbara Lee and Hakeem Jeffries and played no role in the race for caucus chair. Stories that he was whipping votes for either candidate are false and inaccurate."
CLARIFICATION: This story's headline has been changed to reflect the discrepancy between Crowley and The Intercept's account of events.