Utah Rep. Mia Love is suing the Salt Lake County to stop counting votes until she's able to challenge whether signatures on ballots match those on file, according to the Washington Post.

Love, the incumbent, is behind Democratic opponent Ben McAdams by about 1,200 votes in the race for Utah's 4th District. The number of votes separating the two candidates has narrowed in the days since the election, when McAdams was up by 6,700. But he's still up by .5 percent, which is greater than the .25 percent gap required for candidates to request a recount.
From the Post:
In the lawsuit, news of which was first reported by the Salt Lake Tribune, Love's campaign argues that the Salt Lake County Clerk has allowed poll monitors to observe the ballot-counting process but has denied them the ability to challenge signatures on ballot envelopes.

Voting by mail is popular in Utah. In the state's primary elections earlier this year, 90 percent of ballots were cast by mail.
The lawsuit states Love and her campaign "do not anticipate a large number of challenges" but that poll monitors "have observed myriad instances where a county worker verified a signature on a ballot envelope that did not appear to match the signature on file with the County."
McAdams said today in a tweet that the lawsuit "smacks of desperation."
Love's attorney, Robert Harrington, said in a statement that Love is "not accusing anyone of anything," but bringing the lawsuit to improve the election process.
G/O Media may get a commission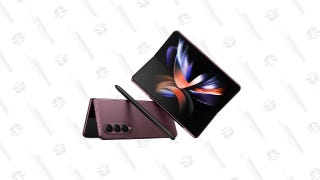 Save Up to $300
Galaxy Z Fold4
"We have great respect for the critical and, at times, complex ballot-counting process," Harrington said. "As we've spent hours observing these efforts, we've found a few instances where increased transparency and scrutiny are needed."
In a press conference after the election, President Trump blamed Love's assumed loss on her failure to adequately embrace him. Love "gave me no love," he said in a press conference.
Other GOP representatives condemned Trump's attacks on Love's performance. "I was disgusted when I heard it," Rep. Adam Kinzinger said on CNN. "These are members that, in their districts, are reflecting their district. Some of them lost because people were frankly voting against the president."