The story is so harrowing it's hard to believe it's real, but for half a century, administrators at the Solebury School in Bucks County, Pennsylvania, intentionally covered up rape and other sexual misconduct committed by teachers against their teenage students. The abuse has scarred many of those students for life, but no new charges will be brought in the case because the statute of limitations has expired on most of the alleged crimes.
The details emerged in a grand jury report released this week, prompted by a public admission by school administrators in 2014 that the school had allowed an inappropriate atmosphere of sexual abuse against its students for 50 years.
That grand jury report was based on testimony from several victims, including a now-77-year-old woman who graduated in 1954 and was repeatedly raped by a French teacher in his 50s at the time.
In another incident, a male student was taken to a private home, given wine until he passed out, and allegedly raped by a male teacher and another man, leaving him bleeding and seriously wounded. The attack was so brutal that the victim required reconstructive surgery, but school administrators never notified police.
Another former student said she was molested by a teacher in the 1990s when she was 15.
G/O Media may get a commission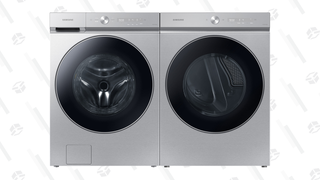 Get $500 back in credit
Last Chance: Samsung Bespoke AI Washer and Dryer Preorder
According to the grand jury report, released Wednesday:

It is clear that many students who received their high school education at the Solebury School from the 1950s until present day found it to be the exact kind of informal, unconventional learning environment which resulted in an excellent educational experience. However, for some students who testified before this Grand Jury, Solebury School was a very different experience. These students experienced a high school with select faculty members who groomed, manipulated, and sexually abused them. Certain administrators did nothing to protect these students or support them once the abuse was revealed. These students remember Solebury School as a place where they suffered trauma and emotional wounds that profoundly affected their future relationships, and decision making in life. The abuse they experienced was compounded by the knowledge that it could have been stopped if those select school administrators intervened when the abuse was ongoing.
According to the report, not a single teacher was formally investigated by the school for the abuse. The victim who is now in her 70s testified that she "has been in therapy for the majority of her life" because of the repeated attacks, which occurred over several years, the report stated.
The man who was raped in the 1960s when he was 17 testified that he "has been in emotional pain for years."
Under a new administration, school officials finally publicly acknowledged the legacy of abuse in an open letter to the community in 2014. "Recently, several alumni from the 1950's to the 1970's courageously stepped forward to share that they were subjected to sexual abuse by adults charged with their care and well-being while they were at Solebury," head of school Tom Wilschutz and board chair Scott Bolenbaugh wrote. "On behalf of Solebury School and our Board of Trustees, we offer our public acknowledgment of this abuse and our sincere apologies, most especially to those directly affected, but also to all who care deeply about this community."
Despite the grand jury's report, no new charges will be filed because the statute of limitations has expired on all but one of the allegations. And the victim in that case is too emotionally scarred to press charges.