According to Consumer Reports' 2015 analysis of 3,000 U.S. hospitals, only a fraction are protecting patients against contracting the potentially deadly infections MRSA and C.diff during their visit.
C.diff is a horrifying healthcare-associated infection that can, essentially, lead to death by diarrhea. According to the Mayo Clinic, a severe infection can lead to "watery diarrhea 10 to 15 times a day," plus blood or pus in the stool and severe stomach pain, among other symptoms. MRSA, or Methicillin-resistant Staphylococcus aureus, is a bacteria that can resist many antibiotics and can lead to pneumonia or other life-threatening infections. MRSA can also cause skin staph infections.
Consumer Reports noted that "Three out of 10 hospitals in our Ratings got one of our two lowest scores for keeping C. diff in check; four out of 10 got low marks for avoiding MRSA." This is the first time that the organization is scoring hospitals on how the cope with C.diff and MRSA, which account for at least 27,000 and 8,000 deaths per year, respectively.
Disturbingly, some of the poorly-scoring hospitals are nationally renowned institutions like Baltimore's Johns Hopkins Hospital and New York's Mount Sinai Hospital.
G/O Media may get a commission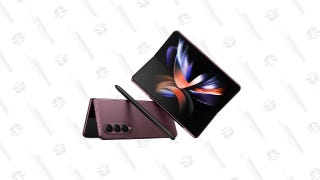 Save Up to $300
Galaxy Z Fold4
Consumer Reports assembled their ratings by examining patients' hospital experience and how they fared once they left using data reported by the Centers for Medicare and Medicaid Services (CMS), the Centers for Disease Control and Prevention (CDC), inpatient databases provided by the state, and the American Hospital Association (AHA).
Hospitals put their patients at risk of contracting these diseases in two ways: Poor hygiene and overuse of antibiotics. These are both preventable, and can put concerned patients in the uncomfortable position of questioning their doctors' cleanliness and professionalism. Consumer Reports notes that patients should feel free to "ask to have your room cleaned if it looks dirty," "take bleach wipes for bed rails, doorknobs, and the TV remote," and "insist that everyone who enters your room wish his or her hand." Not an easy thing to do for those relying on their health workers.
The organization also offers readers a guide on "How to say 'no' to antibiotics":

On any given day in the hospital, half of patients are given an antibiotic and 25 percent get two or more, according to the CDC. But up to half of the time, doctors don't use the drugs right…if your doctor suspects a bacterial infection, ask whether you can be tested for it; results can confirm the infection and determine the type of bug, which can dictate the type of antibiotic that works best.
Washing your hands is a no-brainer, but questioning treatment feels like a whole thing altogether. But antibiotics overuse is a serious issue—back in February, the CDC warned in a report on the rise of C.diff that antibiotics overprescription is a real and dangerous threat:

More than half of all hospitalized patients will get an antibiotic at some point during their hospital stay, but studies have shown that 30 percent to 50 percent of antibiotics prescribed in hospitals are unnecessary or incorrect.
The report continued to point out the link between antibiotic use and cases of C.diff:

Another recent CDC study showed that a 30 percent decrease in the use of antibiotics linked to C. difficile infections in hospitals could reduce the deadly infections by more than 25 percent in hospitalized and recently discharged patients.  A new retrospective study from a Canadian hospital found that a 10 percent decrease in overall antibiotic use across different wards was associated with a 34 percent decrease in C. difficile infections.
And, according to a recent study published in Pediatrics, parents who use Medicaid are especially vulnerable to wrongly requesting, or accepting, antibiotic prescriptions for their children: "Misconceptions about antibiotic use persist and continue to be more prevalent among parents of Medicaid-insured children."
Looks like we have a long way to go.
Danielle Wiener-Bronner is a news reporter.