According to police records released today, both officers involved in the shooting of Tamir Rice refused to speak to detectives investigating the shooting.
Ohio's Cuyahoga County Prosecutor's Office released a comprehensive report from the Cuyahoga County Sheriff's Department's investigation into the controversial shooting of 12-year-old Rice, who was holding a toy gun when police shot him only seconds after arriving to a Cleveland park last November. The shooting sparked outrage on top of already mounting furor following the officer-involved deaths of Michael Brown and Eric Garner in Feguson, Mo., and New York City, respectively.
According to the report, officials spoke to witnesses, Rice's friends, family members, and members of the law enforcement community in the course of their investigation. But both officers who were on the scene—including officer Timothy Loemann, who pulled the trigger—would not speak to authorities about the case.
However, officer William Cunningham, who arrived at the scene after the shooting, told investigators that Loemann told him that Rice "gave me no choice," but to shoot.
Also revealed in the documents was the fact that Rice borrowed the airsoft gun from his unnamed best friend, in exchange for a cell phone that had "Wi-Fi capability." The friend told authorities that he had dismantled the toy gun a few days before, but that he wasn't able to place the orange tip—which would have more clearly indicated the gun was fake—back onto the gun. Rice had been "shooting" the gun at an unnamed person person and his sister; the best friend apparently told Rice to be careful because the gun "looked real."
G/O Media may get a commission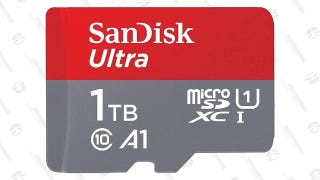 Save $70
SanDisk Ultra 1TB MicroSDXC Card
Other witnesses described previously seeing Rice and his unnamed friend shooting at things like tires and trailers at the park. Rice was well known at the park, according to the report. He "spent approximately 4 or 5 days a week at the [park]," the document reads.
As detailed in the report, a central question in the investigation was why Constance Hollinger—the 19-year veteran dispatcher who was taking 911 calls the day Rice was shot—did not tell officers that the person who called 911 on Rice hypothesized that the gun was "probably fake" and that he was probably a juvenile. Her colleague, who actually radioed officers telling them to go to the park, told authorities she "was not aware" the 911 caller made those comments before dispatching police to the park. Hollinger refused to answer questions about why that information was not relayed, at the request of her attorney.
Another point of controversy is how quickly police shot Rice upon arrival, and why they pulled up so close to him before they shot him: The investigation concludes that officer Loemann shot his weapon "at a distance between 4.5 and 7 feet" away from Rice. In surveillance video, the police vehicle can be seen pulling right up to him, and only seconds later the child is lying on the ground dying.
Initial reports claimed that officers gave verbal warnings to Rice before pulling up next to him and shooting him. Today's report was unable to conclude whether this was true—only one witness claimed that they heard police give verbal commands. And even then, the police fired off two gunshots before saying anything audible. Rice died from two gunshots.
Charges haven't been filed against the officers involved, but many suspect some might be coming soon. Just this week, a judge ruled that there was "probable cause" to charge Loemann with murder in the case, and to charge his fellow officer with lesser charges.
"After viewing [the video] several times, this court is still thunderstruck by how quickly this event turned deadly," the judge's opinion said. "There appears to be little if any time reflected on the video for Rice to react or respond to any verbal or audible commands given from Loehmann and Garmback from the zone car between the time that they first arrived and the time Rice was shot."
The case will now go to a grand jury to see if charges should be filed. Cuyahoga County Prosecutor Timothy J. McGinty, the head of the investigation, said in a statement Saturday that his team released all of the documents today in the interest of "transparency."
"If we wait years for all litigation to be completed before the citizens are allowed to know what actually happened, we will have squandered our best opportunity to institute needed changes in use of force policy, police training and leadership," he said.
Daniel Rivero is a producer/reporter for Fusion who focuses on police and justice issues. He also skateboards, does a bunch of arts related things on his off time, and likes Cuban coffee.