It's another day, which means there is another horrific story of an undocumented immigrant being terrorized and punished for trying to make a living.
As first reported in the Spanish-language newspaper El Diario, a pizza delivery man was arrested last Friday after a soldier at Fort Hamilton in Brooklyn called immigration officials on him.
Sandra Chica, the delivery man's wife, told the newspaper that her husband, Pablo Villavicencio, went to the military base to deliver a pizza order. When he arrived, an officer on duty asked Villavicencio to present valid identification. Villavicencio was carrying his New York municipal ID with him, as he had on past delivery trips to the military base, according to local officials. But this time, the soldier on duty called immigration officials to arrest him.
Villavicencio's wife, Sandra Chica, is a U.S. citizen, while her husband is undocumented. The couple has two young daughters.
G/O Media may get a commission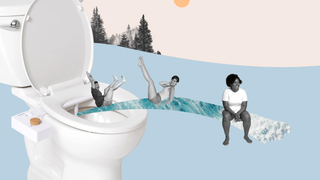 17% off
Tushy 3.0 Warm Water Spa Bidet Attachment
From El Diario (emphasis added, and a rough translation provided by me):

"There are not words that can describe the drama that my daughters and I are living. In one moment, life changed for us. All I ask now is: do not deport my husband. Give him a chance," said Sandra Chica, the wife of Pablo Villavicencio, 32, who was arrested last Friday at noon, when he went to deliver a pizza to a military base in Brooklyn.

[...]

"For God's sake, what's happening? How is it possible that now, in New York City, soldiers are changing their role to that of intermediaries for immigration agents?" Chica said.
New York is technically a sanctuary city, but immigrants still face the risk of being arrested and deported. Federal immigration officials have made it a common practice to post up outside of courthouses, and arresting immigrants as they exit. Since Donald Trump took office, immigrant arrests of New York residents without criminal records more than tripled.
Rather, New York's "sanctuary city" status mostly means that if an undocumented immigrant reports criminal activity to the police, the police essentially agree to overlook their immigration status. Apparently, that same standard doesn't apply to delivering pizza.
Splinter reached out to a spokesperson at Fort Hamilton, who would not confirm or deny the story. The spokesperson added they are "waiting on further guidance," and will release a statement about the incident later today. We will update this story when we have the statement. In the meantime, please don't narc on your neighbors.
Update, 11:40 am: A spokeswoman for Immigrations and Customs Enforcement confirmed the details of the story to BuzzFeed's Cora Lewis on Wednesday morning, saying that Villavicencio was "detained by military police officers and turned over to ICE on June 1."
Brooklyn city council members also held a press conference outside of the military base on Wednesday morning. Chica—who was in attendance with her two young daughters—and said her husband will be deported next week if no action is taken.
We'll update this story as it develops.