A Republican congressional candidate in California would like the world to know that she is NOT afraid to harass and humiliate a transgender woman just trying to use the bathroom in peace.

In video streamed live on Facebook this past Tuesday, Jazmina Saavedra, who is running in California's 44th congressional district, invited viewers along as she stormed a Los Angeles area Denny's bathroom, saying, "there is a man here claiming that he is a lady."
Heard through the bathroom stall door, the transgender woman tells Saavedra that she is "invading my privacy." Saavedra says, "You're invading my privacy because I'm a woman and I deserve to use the woman, the ladies' room," to which the woman replies, "how am I invading your privacy? I'm in the toilet!"
Saavedra then spends the next several minutes lurking outside the restroom, waiting for the woman to exit. When she finally does, Saavedra confronts her again, before telling viewers, "I was with my pepper spray ready and I called the manager so he helped me."
On Facebook, Saavedra used the video to urge supporters to donate money to her campaign.
G/O Media may get a commission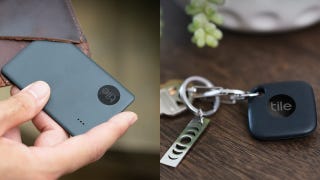 Up to 35% off
Tile Item Trackers
In a statement to The Daily Beast, Saavedra's Democratic opponent, Congresswoman Nanette Diaz Barragán, condemned the confrontation:
I was appalled by the treatment that this woman received for simply trying to use the restroom. Everyone has the right to their own identity, and the right not to be discriminated against for who they are.
Despite gleefully filming the public harassment of a potential constituent, Saavedra insists on her campaign website that she's running for Congress "to fight for and truly represent all Californians with their needs and rights."
I have reached out to both her and Denny's corporate offices for comment on the incident.
Update, 1:17 pm: Denny's Corporation responded to Splinter's request for comment in an email:
We are extremely disturbed by the incident that took place at our Los Angeles restaurant this week. At Denny's, we do not tolerate discrimination of any kind, inclusive of gender identity and sexual orientation.

 We are dedicated to providing a welcoming dining environment for all our guests and believe that our transgender guests and team members should be allowed to use the bathroom of the gender they identify with. Our restaurant teams attend training which covers our policies against discrimination and promotes respect for all guests.

In this particular case, the video of this incident does not tell the full story. Our manager was approached by a guest complaining that a man was in the women's restroom. Once a female team member checked that no one else was in there, the manager entered. Before seeing the guest, the manager observed drug paraphernalia on the floor near the guest and asked the guest to leave based on that observation, and not on her gender identity.

There is no place for discrimination of any kind in our restaurants. We do apologize to our transgender guest and others in the restaurant that had to endure another customer's disrespectful behavior.