Welcome to WHAT NOW, a morning round-up of the news/fresh horrors that await you today.

The special election to fill Montana's only seat in the House of Representatives took a bizarre, violent turn on Wednesday evening when Greg Gianforte, the billionaire GOP candidate, was charged with misdemeanor assault for allegedly body-slamming a reporter on the night before voters are set to go to the polls.
In audio of the run-in posted last night, Guardian journalist Ben Jacobs can be heard asking Gianforte to respond to the Congressional Budget Office's scoring of the American Health Care Act, which was released Wednesday afternoon. Without warning, Gianforte yelled: "I'm sick and tired of you guys!"
The audio from Jacobs keeps rolling as a violent scuffle can be heard, after which Jacobs tells the Republican, "You just body slammed me and broke my glasses," and says he wants to call the police.
"Get the hell out of here," Gianforte shouted back.
A Fox News crew which was also in the campaign's office witnessed the incident. The crew reported that Gianforte "grabbed Jacobs by the neck with both hands and slammed him into the ground behind him."
G/O Media may get a commission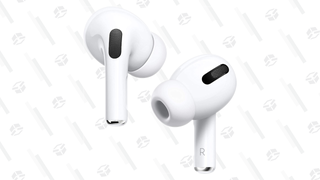 28% Off
Apple AirPods Pro Wireless Earbuds
Gallatin County Sheriff Brian Gootkin said in a statement late Wednesday that Gianforte was cited for misdemeanor assault and would have to answer to that charge in court on June 7.
The whole dust-up came just moments before the last rally of Gianforte's campaign was scheduled to begin. The special election is being held to fill the seat vacated by Ryan Zinke, who joined President Trump's administration as Secretary of the Interior.
It also came just two days after robocalls of Vice President Mike Pence endorsing Gianforte went out to Montana voters.
"Greg Gianforte is running to be your next congressman and President Trump and I need Greg working with us in Washington to cut your taxes, secure our borders, and protect your Second Amendment rights," Pence said in the calls.
Trump also recorded calls endorsing the candidate.
Could this actually flip the election day against Democrat Rob Quist, a folk singer-turned-first-time-candidate? It doesn't seem very likely, as almost 40% of registered voters have already returned absentee ballots, according to The Billings Gazette. But hey, stranger things have happened.
WHAT ELSE?