Savanna's Act, a bill that would aim to protect Native American women from the violence they experience at a hugely disproportionate rate, was killed last week by Republican Rep. Bob Goodlatte as his last act before leaving Congress.

The bill was originally proposed by North Dakota Sen. Heidi Heitkamp, who lost her reelection bid to Republican Kevin Cramer in November. It passed the Senate in November, but the objections of Goodlatte—the House Judiciary committee chair—to certain provisions in the bill kept it from passing this year. Now, according to HuffPost, Republican Sen. Lisa Murkowski of Alaska has said she will take up the cause and endeavor to get the bill through Congress when the new session convenes.
From HuffPost:
"I've committed to Sen. Heitkamp that this priority that she has helped to advance, I am going to encourage every step of the way, aggressively and early," Sen. Lisa Murkowski (R-Alaska) told reporters last week, according to an audio recording provided by Murkowski's office on Wednesday.

"I'm looking for partners. I've already talked to Sen. Cantwell, she's willing to join up with me," she said, referring to Sen. Maria Cantwell (D-Wash.).
G/O Media may get a commission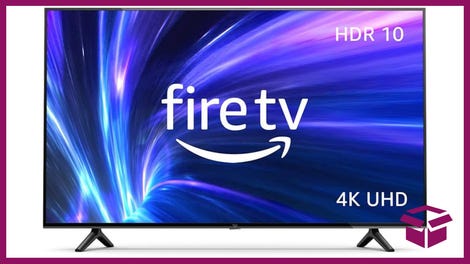 42% Off
Amazon Fire TV 50" 4K Smart TV
Violence against Native women is a crisis. According to a 2016 Justice department report, 84 percent of Native women will experience violence at some point in their lives and 56 percent. will experience sexual violence. Savanna's Act was named for Savanna Greywind, a member of Spirit Lake Nation who was murdered in 2017.

"It's horrifying," Heitkamp said in a statement. "If that was the case across the entire country, there would be a national call to action to address this issue. But it's hidden in tribal communities."
Savanna's Act aims to increase communication between federal, local, state, and tribal authorities on cases of violence against Native women, as well as strengthening crime data collection, but it doesn't require any investment from the federal government. What it would do, however, is try to provide some measure of accountability for law enforcement agencies that don't comply with the law, which, as my colleague Nick Martin wrote for Splinter last week, is why Goodlatte opposed it:

Based on the draft legislation provided to Splinter by a source closely involved in deliberations around Savanna's Act, Goodlatte's version removes the accountability clauses carved out for law enforcement. Whereas Heitkamp's version would have required the U.S. Attorney General's office to "disclose and publish" the names of law enforcement agencies that did not adhere to the guidelines found in Savanna's Act, Goodlatte's would remove that requirement entirely.

Goodlatte's edits also take aim at the "compliance" section, essentially the teeth of Savanna's Act. Goodlatte's version excised all of Section 5, Subsection C, Notes 3-6—this included a directive to the U.S. Attorney General to "determine whether each Tribal, State, and local law enforcement agency has incorporated guidelines into their respective guidelines, policies, and protocols." Goodlatte's version would also remove the act's call to incentivize the law enforcement grant program to favor those agencies that complied with the new guidelines.

Goodlatte, thankfully, will be gone next week. Murkowski, however, promises that she'll work to get the bill across the finish line in the new session.
"We're going to be working it. We're going to be working it early," she said. "We're going to make the difference."