The Eternal Word Television Network specializes in the trippy kind of programming you might come across at 3 a.m. on public access, except it runs 24 hours a day and only airs Catholic-themed shows with titles like A Travel Guide to Heaven and Discerning the Will of God: An Ignatian Guide to Catholic Decision Making.

On a recent episode of the network's Pro-Life Weekly, which has the same broadcast aesthetic as C-SPAN but focuses its coverage on "abortion, euthanasia, assisted suicide, and the culture of death," host Catherine Szeltner interviewed Louisiana Senator Bill Cassidy. The Senate Republican was there to discuss the proposal that would later become Graham-Cassidy, the standalone legislation being considered this week to repeal the Affordable Care Act.
"Pro-life leaders reiterate there are two important pro-life protections that must be included in American healthcare," Szeltner says in her introduction with the theatrical self-seriousness of a bad cable news anchor.
Now you could finish that sentence a lot of different ways, like how the United States has an outsized rate of maternal and infant mortality compared to similarly wealthy nations or how our uninsured population continues to hover somewhere around 28 million.
"First, taxpayers must be protected from funding abortion," Szeltner says instead. "And second, Planned Parenthood, the largest abortion provider, must be defunded."
G/O Media may get a commission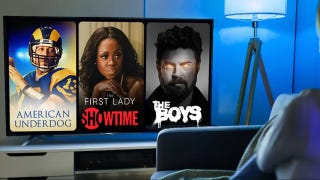 UNDER $1
99¢ Prime Video Channels
There is nothing particularly new or noteworthy about this kind of political myopia, or the overall hypocrisy of pro-life Republicans: We have seen its consequences play out in Texas, where the infant mortality rate is the highest in the developed world, and nationally, as Republicans craft legislation to force women to carry unwanted pregnancies to term while also pushing austerity measures that gut the programs meant to support them after having a child.
What is new is how much more harm they can inflict now that their party has total control of the White House, Congress, and 26 states.
The Graham-Cassidy proposal in its current form accomplishes both of the requirements Szeltner laid out, and is a threat to the health of women and families for exactly those reasons. Together, the senators have crafted a bill that allows states to waive essential benefits like maternity care, bans all marketplace plans from covering abortion with only the same narrow exceptions carved out in the Hyde Amendment, and imposes a one-year freeze on Medicaid reimbursements to Planned Parenthood. (This is what lawmakers like Cassidy mean by "defunding" the family planning provider: Cutting off access for Medicaid recipients.)
Perhaps most drastically, the bill eliminates the Medicaid expansion, converts existing marketplace funding into temporary block grants, and imposes a cap on the entire program. This is a radical unmaking of Medicaid, which already covers about half of the births in this country (and 65 percent of births in Cassidy's home state of Louisiana), and the consequences would be dire for American women.
Cassidy never concedes this point while talking about his policy, but the reality is simple math: Less federal money means states will have to make cuts. "If Medicaid coverage goes away during pregnancy that costs infant lives," Katy Kozhimannil, an associate professor of health policy and management at the University of Minnesota School of Public Health, tells me. "That is a clear association."
Kozhimannil, who is also the director of research at the university's Rural Health Research Center, says that "rural communities that are already struggling, rural hospitals that are already struggling" would be among the populations to take the hardest hit.
A study released last year found, through a survey of 306 rural hospitals in nine states, that 7.2 percent closed their obstetrics units between 2010 and 2014. When budgets are tight, labor and delivery can be among the first services cut. Women in those areas would need to travel an average of 29 additional miles for labor and delivery care, according to researchers.
"I have heard a lot of stories about this, especially over the past year as we've been looking at rural maternity access," Kozhimannil says of the distances women are forced to travel in order to give birth. "What you see is folks driving hours back home, sometimes driving several hours back home, and then it developing into labor. It's a really hard choice because for many pregnant women, especially those who are low-income, that amount of travel is actually a huge stress. If you have other children, who is caring for the other children? If you have a job, if your spouse has a job?"
In this way, the American pro-life movement has helped create a kind of dual crisis with mirrored consequences. The same communities and populations that could lose obstetrics units and maternity coverage under Medicaid cuts laid out in Graham-Cassidy—a bill that was endorsed by the Susan B. Anthony List and other movement organizations—are already struggling due to a lack of access to family planning services.
Those same hard choices for low-income women—how to get time off work, how to arrange for childcare and gas money—need to be made when planning for an abortion, too. According to a 2013 Guttmacher Institute analysis of distances traveled by women seeking abortion care in the United States, 31 percent of women who lived in rural areas traveled more than 100 miles to access abortion services. An additional 43 percent traveled between 50–100 miles. Any further reduction in access—either through political attacks on Planned Parenthood or private insurance coverage for abortion—will only see a worsening of the problem. And because most women who have abortions are already mothers, whether we are talking about access to abortion or delivery, we are talking about the same women.
This is where the anti-abortion movement has led us as it builds political power: toward a country where you can become pregnant, but can't safely have an abortion or give birth.
This predicament is fundamentally anti-life, but that has not stopped Cassidy or his ideological counterparts from describing their efforts as the opposite. Reflecting on his approach to healthcare on Pro-Life Weekly, Cassidy boasted that both he and his wife were physicians, which meant they had an intimate understanding of what was at stake in all this.
"We both learned in medical school when life begins," he says, squinting with a dumb-looking smile. "We both are passionate in our pro-life concerns, beliefs, and what we can do to advance that cause." Szeltner smiled back and thanked him for his time.