The Republican-led investigations into Planned Parenthood for its participation in fetal tissue donation programs have so far amounted to little more than bad political theater. But the absence of any evidence of wrongdoing (and 13 state-level investigations that have exonerated the reproductive health provider against accusations of criminal activity) hasn't stopped the three committees from pressing ahead—or expanding their targets.
This week, one of those committees, the Select Investigative Panel on Infant Lives, announced that the scope of its inquiry would now include medical students who have participated in fetal tissue research.
As The New York Times reported on Thursday, the House committee, led by Tennessee Republican Marsha Blackburn, has already received hundreds of pages of documents from universities and organizations involved in fetal tissue research. But the names and identifying details of students, professors, and other staff involved had been blacked out in many cases, as schools and labs cited security concerns.
In response, the committee has prepared 17 subpoenas to obtain the names of researchers, graduate students, and other staff that had previously been redacted, a move that administrators, researchers, and students say politicizes science, threatens vital research, and could endanger their lives.
"I don't know what the purpose is of releasing those names, unless it's to intimidate," Dr. Robin Ohls, a professor of pediatrics and the neonatal research director at the University of New Mexico, one of the schools involved in the investigation, told me. "I can't even imagine what purpose the names of the students that have worked with us would serve."
G/O Media may get a commission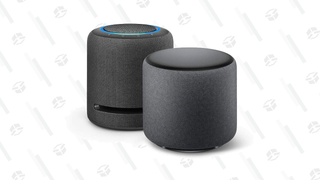 25% off - Prime Exclusive
Echo Studio + Echo Sub Bundle
The chancellor of the University of New Mexico, Paul Roth, is resisting efforts by the committee to obtain the names of students and staff for precisely this reason.
"I am concerned that supplying this information would potentially endanger the safety of faculty, staff and students on our campus," Roth wrote in an email to the school's Health Sciences Center. "We are working to clarify and revise this request for personally identifiable information and its relevance to the stated charge of the Select Panel."
Fetal tissue research is legal, is regulated by federal law, and receives federal funding. It is illegal to sell fetal tissue, but organizations like Planned Parenthood are allowed to recoup expenses related to preserving and transporting donated tissue. Out of the organization's 700 affiliates, only two clinics—one in California and one in Washington state—participated in fetal tissue donation programs. Only one of those clinics accepted reimbursements for the tissue. (Planned Parenthood announced in October that it would no longer accept reimbursements.)
And as R. Alta Charo, a professor of law and bioethics at the University of Wisconsin School of Law, told me last year, the use of tissue obtained from aborted fetuses for scientific and medical research has long received bipartisan support.
But in the months since the release of secretly recorded videos showing Planned Parenthood staff discussing fetal tissue procurement and donation, Republicans in Congress have accused the organization of "harvesting and selling the little body parts from many of the hundreds of thousands of innocent babies they are guilty of killing." Ted Cruz has called fetal tissue donation "killing unborn children in order to sell their body parts." Robert Dear, the gunman in a November shooting at a Colorado Springs Planned Parenthood clinic that left three people dead and wounded nine others, is reported to have told police "no more baby parts" after his arrest.
Publicizing the names of students pursuing their degrees and careers in medical research would potentially throw them into the middle of a volatile, highly politicized investigation, Ohls said: "All of this new attention really has to do with politics. It has absolutely nothing to do with the science of what we do, or its impact on saving babies lives. Nobody has thought about that at all."
Beyond safety concerns, medical students and researchers say they are worried that the politicization of their work will have a chilling effect—something that has already happened in the field. As the Times noted, Larry Goldstein, scientific director of the California-based Sanford Consortium for Regenerative Medicine, testified before the committee in March that a study to cure multiple sclerosis had come to a standstill because researchers were no longer able to access fetal tissue.
"Generally speaking, when politicians get involved in science it doesn't go particularly well," Dr. Deborah Hall, the national president of the American Medical Students Association, told me. Hall is not involved in fetal tissue research, but other medical students in her organization are. "This is part of a disturbing trend we're seeing: inserting politics into medicine, into science, into reproductive health. Those are very dangerous things."
As Republicans in Congress raise the specter of criminal charges—and accusations of outright murder—students and doctors may turn away from the field, she said: "Researchers don't want to dance on those lines."
And that would be a tragic outcome, Ohls told me.
"I am a neonatologist, so I take care of premature babies," she said. "We have the distinct privilege to perform research in our lab the directly impacts the premature babies I take care of, to improve the lives and survival of those babies.
"It would be incredibly unfortunate if we were forced to discontinue our work," she continued. "And I feel like it would be, again, strictly political and would have nothing to do with the ethics or the morals of what we do."
Ohls' work, currently under investigation by the committee that calls itself the Select Investigative Panel on Infant Lives, really is about saving infant lives.
Her lab studies a specific protein (and a medication derived from that protein) called erythropoietin—EPO for short. You may have heard of EPO because it's one of the drugs cyclist Lance Armstrong used in his illegal doping scandal, but it can also help babies produce red blood cells, which reduces the number of transfusions they need.
Ohls' lab studies the effect this medicine in fetal brain cell tissue, and uses what she learns in her research to provide treatment to premature babies.
"We have been able to look at the direct benefit [of EPO] on cells, fetal brain cells, in the laboratory as we were designing clinical studies to help [premature babies] improve their cognitive development as they grew," she explained. "In those clinical trials, we've been able to show a direct benefit at two years of age—an improved cognitive score. And we've been able to continue to follow those babies as they got to preschool age, and they showed an even better benefit when they got older—at four years, and again at six years of age.
"This was work we were able to do in the laboratory on human fetal brain cells," she said. "You have to be able to actually look at the effects of those medications on human cells, on fetal cells. It's been something that's really allowed us to confirm, as we move through these clinical trials, the benefits of these medications for babies."
For Ohls, the bottom line remains her commitment to the patients that benefit from her work. The research program she runs is meant to help students see that their work can have a life-changing impact on the lives of other people. "We try to get trainees at all different levels—from undergraduate students to graduate students, medical students, and fellows—to become interested in research by seeing the benefits—directly," she said. "There are not many labs that have that ability—to study something that can be applied to the patients they take care of."
Ohls' lab does that, she said. So while a political fire may be raging outside her door, she keeps her focus on the medicine: "We've just been doing the work that we do."