Under ordinary circumstances, the physical assault of a journalist—or anyone really—at the hands of a GOP congressional candidate would be the sort of thing that might warrant some serious soul-searching or distancing from Republican leaders. So when Greg Gianforte, the Republican candidate for Montana's open House seat, allegedly grabbed Guardian journalist Ben Jacobs by the throat, slammed him to the ground, and punched him repeatedly in the face., you might have expected a full-throated condemnation.

But, in a world where Donald Trump gets away with framing reporters as "the enemy of the people, it's safe to say that "ordinary circumstances" have flown out the window. And, rather than putting their foot down at what appears to be a pretty clear-cut case of assault, some Republicans have instead exhibited a stunningly zen-like level of chill at the prospect of Gianforte joining their ranks.
Take, for example, California congressman and vape enthusiast Duncan Hunter, who was quoted by the Associated Press' Mary Clare Jalonick as describing Gianforte's actions as "not appropriate behavior. Unless the reporter deserved it."
But Hunter is hardly the only Republican content to carry water for Gianforte.

Conceding that "it should not have happened," Arizona Rep. Trent Franks condemned the use of physical violence against the press in an interview with MSNBC, but prefaced his criticism with the caveat that "The left has precipitated this tense, confrontational approach throughout the country in recent months."
G/O Media may get a commission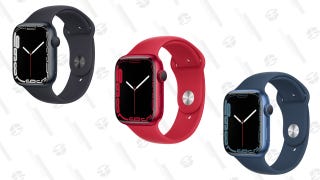 Up To $45 Off
Apple Watch Series 7
In that same MSNBC segment, New Jersey congressman Leonard Lance also issued a lukewarm condemnation of the alleged assault, insisting that the press should be treated "with respect." But, Lance added, he's pulling for a Gianforte win, nonetheless.
"I, of course, hope the Republican is successful today," Lance explained. "Because I think his views are the views of the people of Montana." Evidently, he thinks the people of Montana are just as chill with physical assault as Gianforte is.
In fact, not even the threat of pending criminal prosecution seems to bother Pennsylvania Rep. Charlie Dent, who said Gianforte would "of course" be welcome in the Republican conference, should he win Thursday's race.
When a reporter noted that Gianforte was charged with assault, Dent replied "Hey, he was charged. We don't know all the facts."
Even Speaker of the House Paul Ryan couldn't find the basic decency to stand up to Gianforte (or, maybe he's just afraid of being body slammed himself?).
Despite insisting that "there is no time when a physical altercation should occur with the press," Ryan admitted to reporters that he's gonna "let the people of Montana decide who they want as their representative," rather than call for Gianforte to drop out of the race. So brave!
At this point, President Trump's prediction that he could "stand in the middle of 5th Avenue and shoot somebody" without losing support seems less like a horrifying joke, and more like a horrifying challenge to the party that elected him.