After nearly three decades in Congress, many of those years spent fighting for immigration reform and a pathway to citizenship for undocumented youth, Illinois Democratic Rep. Luis Gutiérrez has some parting words for incoming Democrats hoping to finish what he started: If you too want immigration reform, you'll likely be forced to pay a "ransom."
Speaking to NBC News in an exit interview of sorts about his time in Congress, Gutiérrez stressed to Democrats that in order to get what they want, they're going to have to make some concessions, calling it the "right thing to do." From NBC News:
'For my friends on the left, remember, there's going to be a ransom that is going to be required,' Gutiérrez said of getting a comprehensive immigration overhaul measure passed in Congress. 'Pay it. It's the right thing to do, because we're never going to be able to overcome the 60 votes in the Senate.'

'There are people on the right that are going to want certain things,' he said in an interview with NBC News. 'I don't know if we have to give them a wall … but we're gonna have to sit down and negotiate.'
NBC News reported that the outgoing member of Congress made these comments before the current partial government shutdown over President Donald Trump's demand for $5 billion in border wall funding, so it's unclear if that's the kind of thing he meant by "ransom." We've reached out to his office for clarification, and will update with any response we receive.
Regardless, the comment seems at least out of character for someone who has been fighting for the rights of undocumented people for years. Gutiérrez has been arrested in front of the White House multiple times in protest of President Barack Obama's inaction on immigration reform and 1-million deportation mark, respectively, and has continued to protest Trump's family separation policy this year. Gutiérrez was also vocally furious at his fellow Democrats for voting to reopen the government earlier this year without securing protections for DACA recipients.
G/O Media may get a commission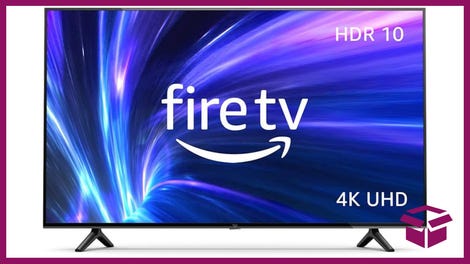 42% Off
Amazon Fire TV 50" 4K Smart TV
Even last week at his last House Judiciary Committee hearing, he lambasted DHS Secretary Kirstjen Nielsen, calling her out for lying this past summer about the Trump's administration's formal family separation policy within its "zero tolerance" policy. In his interview, he even went so far as to compare himself to the incoming progressives who had establishment Democrats pearl-clutching early on:
Were he starting out now, he said, he would fit in with some of Congress' incoming progressive Democrats.

'So at that point it wasn't 'Medicare for All,' right?' Gutiérrez said. 'It was, 'How can you guys take a pay increase when you are asking that every other federal employee not get a pay increase?'' he recalled. 'Why do you give yourself special parking? Why do you send out mailers at taxpayers' expense?'

Years later, he was getting arrested outside the White House in protest of President Barack Obama's deportation policies, pressuring him to keep a campaign promise to get comprehensive immigration reform passed.

'I gave Obama hell and I'm not regretting it,' Gutiérrez said. 'I believe that what I did was the right thing to do, but I gave him hell.'

He recalled that on one visit to the White House, he was in a corner of a room with the president, just the two of them.

'He says to me, he says: 'We're both from Chicago, right? We came here to do good things, can't you figure a way to get off my a––?'' Gutiérrez said.
Yes, Gutiérrez has done a lot to advance immigrants' rights during his time in Congress. But his advice for Dems to give into compromise perhaps more reflects a cynicism stemming from having his efforts blocked at every turn for a few decades—not just by the GOP, but the leadership of his own party as well.
At the very least, however, the man knows when he needs to let go and give the new blood a chance to fight. Per his interview with NBC News:
Sometimes they'd say, 'Well, how come you're the only one getting arrested?' I'd say, 'Cause, nobody else would come!' Now, dozens of members of Congress get arrested, right. [They] are challenging the system, and voicing, and our new young progressives, they're also bringing immigration.

So that's why I feel very confident in leaving right now, because there is a whole bunch, right. A whole group of young, thoughtful, persuasive arguments that they're making, right. It's time for the 65-year-old to move on, and let the 30- and the 40-year-olds take that voice, 'cause I don't have all the ideas, and I don't have all the energy...Let them build upon the foundation that I and others created.
Other Dems, even those who are far older than Gutiérrez: Please don't be afraid to follow his lead.