Rex Tillerson's job definitely sucks. As Secretary of State, he has to take orders from a President who has no idea what he's doing. On top of that, Tillerson has to clean up the mess while also not having any idea what he's doing.
Tillerson's job is so shitty, it compelled him to tell a room full of oil executives he missed them. According to The Associated Press, while in Istanbul to meet with Turkish President Recep Tayyip Erdogan, Tillerson accepted a Lifetime Achievement Award from the World Petroleum Congress for his 41 years in the industry.
During his acceptance speech, Tillerson told the crowd of oil executives that he missed them and he apparently appeared 'wistful' during its delivery.
The AP reports:
"I miss all of you," he said wistfully to his former colleagues in the oil business. "I miss you as colleagues, I miss you as partners, I miss you as competitors."

G/O Media may get a commission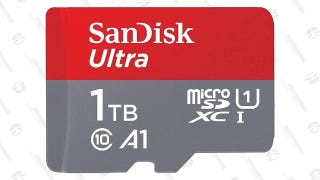 Save $70
SanDisk Ultra 1TB MicroSDXC Card
Without context, Tillerson's confession sounds more like a scorned Bachelorette contestant than former Exxon Mobil CEO. With context, they're still amusing.
Tillerson also alluded to what he's already made quite clear in the past: he never wanted this job. Instead of retiring from Exxon Mobil, as he had planned to do before being tapped as Secretary of State, "it didn't quite work out that way," he told the audience to a chorus of laughter. In March, Tillerson told a reporter from the Independent Journal Review that he "didn't want this job" nor "seek this job." His wife made him do it, or so he said.
Despite Tillerson's acknowledgement of climate change and support of the Paris Agreement, the former oilman made his allegiance to the industry clear. "Energy is fundamental to economic growth and prosperity," Tillerson preached. "It's fundamental to lifting people out of poverty the world over."