Richard Glossip, a man many believe to be innocent, came within a few hours of being executed today.
At the eleventh hour, an Oklahoma Court of Appeals granted a two-week stay for the planned execution of Glossip, which was set to take place at 3pm Central Time. The order was issued at noon.
Yesterday, Glossip's legal team filed several motions for post-conviction relief with the court, including what it says is new evidence that could clear him of his conviction for the 1997 murder of a hotel owner he was accused of paying another man to do. The court issued the stay in order "to give fair considerations to the materials included" in the court documents, the order read.
G/O Media may get a commission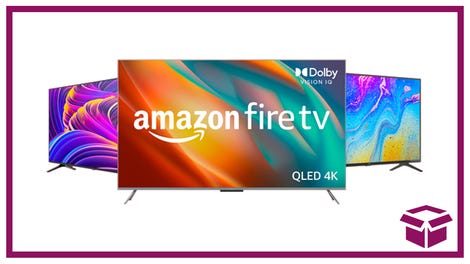 Ooh. stunning.
New Amazon Fire TVs
A 60-day stay had been called for by everyone from Susan Sarandon to Virgin CEO Richard Branson and former Republican senator Tom Coburn. The daughter of Glossip's supposed co-conspirator has asked Oklahoma Governor Mary Fallin to grant him outright clemency.
The near-execution is especially harrowing because of the extremely weak case the state has used against Glossip when prosecuting him for the murder of Barry Van Treese, a hotel owner whom Glossip worked for.
For starters, there's no DNA or fingerprint evidence linking him to the death. During a second trial for the murder in 2004, prosecutors admitted that "the physical evidence doesn't directly implicate Mr Glossip," reported the Guardian.
Justin Sneed, a 19-year-old maintenance worker at the hotel, told police that he is the one who killed Van Treese. Sneed's the one who implicated Glossip in the crime, but the timeline is sketchy.
From the Guardian:

Transcripts of the police interrogation show Sneed first denied any knowledge of the murder. "I don't really know what to say about it," he told investigators, stumbling over a story about his brother before admitting that he robbed Van Treese but "I only meant to knock him out".

"The thing about it is, Justin, we think – we know that this involves more than just you, okay?" Detective Bob Bemo said to Sneed, later introducing Glossip as a snitch. "You know Rich is under arrest don't you? … [H]e's putting it on you the worst."
After police convinced him that Glossip was pointing the finger at him, Sneed's story switched, and he started putting the blame on Glossip. Sneed eventually worked on a plea deal with prosecutors that would spare him the death penalty if he testified that Glossip masterminded the crime.
Glossip was found guilty of murder in the first trial. Sneed is doing a life sentence in a medium security prison in Lexington, Oklahoma for his involvement in the murder.
Following the original trial in 1998, an appeals court said that the case against Glossip was "extremely weak." It ruled that his legal counsel was ineffective, and that prosecutors had engaged in misconduct. One of the main issues the court noted about the case is that the jury had not seen the video of Sneed's taped confession.
The appeals court overturned his conviction and granted him a retrial.
During the second trial, Sneed's story continued to change. Writes the Intercept:

At Glossip's first trial, Sneed testified that he had been offered $7,000 to kill Barry Van Treese, but that the money he discovered under Van Treese's car seat was only $4,000, which they ended up splitting. "The money never really was on my mind," Sneed testified. "I was just going along with everything he said, basically." By the second trial, in 2004, Sneed insisted that Glossip had offered him up to $10,000. Every time he talked to Glossip about killing Van Treese, Sneed said, the amount of money would increase.
Again in that trial, the jury was not shown Sneed's taped video confession. The jury found Glossip guilty of first degree murder, and this time an appeals court let it stand.
This Monday, Glossip's legal team released dozens of pages of documents to the press, further calling his guilt into question. During a press conference later that day, the Oklahoma City District Attorney David Prater called the move a "bullshit PR campaign."
But those casting doubt on Glossip's innocence are impossible to ignore. An inmate that lived for years in the cell across from Sneed said in an affidavit submitted to the court that "it was common knowledge that Justin Sneed lied and sold Richard Glossip up the river" to avoid the death penalty.
Most glaring of all, however, is a letter that Sneed's own daughter wrote to an Oklahoma clemency board last year, asking the state to grant Glossip clemency, and suggesting her father was not truthful in the two separate trials.
"For a couple of years now, my father has been talking to me about recanting his original testimony. But has been afraid to act upon it, in fear of being charged with the Death Penalty, and not be here for his children," she wrote. "My father told me he said what he had to say to the police to stay in my life. He was backed into a corner, facing being charged with the Death Penalty. But was offered a Plea Agreement, of Life without Parole, to testify against Mr. Glossip. I feel he is holding important facts about Mr. Glossip's case in fear of losing his own Deal."
"I'm writing today to ask for Clemency for Mr. Richard E. Glossip, and to please not execute an innocent man. One innocent life has already been taken by my father's actions. A second one doesn't deserve to be taken as well," she said.
As of now, the new date for Glossip's execution is September 30.
Daniel Rivero is a producer/reporter for Fusion who focuses on police and justice issues. He also skateboards, does a bunch of arts related things on his off time, and likes Cuban coffee.