White supremacist Richard Spencer addressed a small group of his white-polo-wearing Nazi supporters at the University of Florida campus on Thursday afternoon. The group was exponentially outnumbered by students and other protesters shouting down the entirety of Spencer's talk.

Although Spencer had significant leeway in choosing the journalists who could cover the event—and had his own hired goons doing security for those filing into the venue—dozens of protesters made their way in to shout throughout Spencer's entire speech and the question and answer session that followed.
G/O Media may get a commission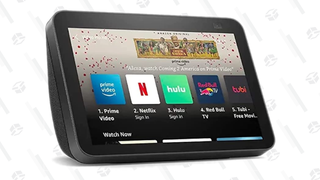 Protesters started drowning out Spencer with boos and chants of "go home Spencer" almost immediately, so the millennial white nationalist in a three-piece suit hardly got a Nazi word in edgewise. Spencer quickly got frustrated that he wasn't being allowed to wax on about the genetic superiority of white people, calling the protesters "babies" and "immature preschoolers."

A protester inside the event also confronted Spencer about the death of Heather Heyer, who was killed in Charlottesville while protesting him and other racist far-right figures:
Then the crowd quite rightly joined in:
The scene was even more frenetic outside the building, where protesters were shouting down and occasionally getting into scuffles with white men wearing Nazi garb.
Here's a nice photo, via Getty Images, of the same guy getting clocked in the face a la Spencer himself:
The campus community in Gainesville rose to the occasion, coming out strong to denounce the Nazi's presence, with direct action and a bunch of really excellent anti-racism protest signs: