Since his inauguration 11 days ago, Donald Trump has been named in 42 federal lawsuits—31 more than his predecessor during the same period of time in 2009. Some of those early Obama suits were filed in response to the "birther" conspiracy theory. Today President Trump is being sued by, among others, a veteran interpreter for the U.S. government, the state of Washington, the city of San Francisco, a coalition of former White House ethics lawyers, CAIR, and the Arab-American Civil Rights League.
From Friday into Sunday, a popular pre-inauguration opinion—that lawyers, blue books, and court petitions would be more crucial in Trump's America than the voting public or any elected official—was bolstered with images of lawyers from LAX to JFK hunched over laptops, punching out habeas corpus petitions. As one told Gothamist, exhausted and indignant at 4:30 AM Sunday from a diner near the airport where she and other attorneys had been up all night:
"'I'm an immigration lawyer and I've worked with people who are refugees and seeking asylum in the U.S.. I've worked in other countries, and I've never seen anything like this. This is ethnic cleansing that's going on. This is about exclusion."
Progressive, outspoken lawyers like her are having their moment. The petitions filed to the ACLU by attorneys at JFK were collected and brought to a Brooklyn judge, who issued a stay against the illegal detention of immigrants and used it to halt a chunk of the travel ban on a federal level. Hours later a second stay was issued by a Virginia judge, blocking the removal of green card holders detained at Dulles. And since before President Trump was sworn into office, activist lawyers have been arming and organizing themselves to respond rapidly to these kinds of fights.
G/O Media may get a commission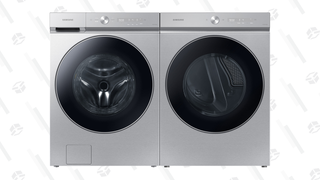 Get $500 back in credit
Last Chance: Samsung Bespoke AI Washer and Dryer Preorder
Activist lawyers have been crucial in overturning laws that impede Americans' civil rights, typically on a crawling, counterintuitive, case-by-case basis. But in the two-odd months since Trump was elected, legal activists and scholars have been preparing for what we're experiencing now: an avalanche of court cases and a desperate need for individual legal assistance.
Shortly after Trump's win, a lawyer named Traci Feit Love started a Facebook group for "Lawyers on the Left." It's since grown to more than 120,000 members and incorporated as a non-profit under the name Lawyers for Good Government, aiming to provide training to attorneys and legal assistance to activists challenging the Trump administration's policies.
"Unfortunately," as she told Vice, "a public-awareness campaign, or letter-writing, has of yet not proved efficient." Elsewhere across the country, as was reported recently in the New York Times, law schools and advocacy groups are holding meetings to address the looming, inevitable voting rights crisis and strategizing how to best allocate resources across activist groups.
"The bar has been galvanized in a way I have not seen since the 1960s," one activist from the Alliance for Justice, which focuses on judicial nominations, told the Times.
But as the same activist mentioned, while in the past it's been difficult for groups likes hers to get corporate legal assistance from firms afraid of getting their hands dirty, they're now experiencing a glut of attention and funding. And quite a number of high-profile businessmen, like Jeff Bezos, are willing to dirty their hands right now. A lot of funding for legal action right now is from individual donations, but if you're a major corporation or, say, a billionaire with a bone to pick, there's a lot of incentive to bankroll litigation.
As of yesterday, for instance, the ACLU is set to funnel the more than $24 million it has recently raised through Y Combinator, a startup incubator. And while there's no word yet on exactly what that will look like in practice, it does seem relevant that the money donated to combat Trump will be managed by a company who has kept at least one major, hyper-visible, and constitutionally dubious billionaire on board.
And when the court orders come through we'll just have to hope they're respected.