Rihanna, Kanye West, and Paul McCartney released the video for "FourFiveSeconds" this morning, and I don't know what I was expecting, but it wasn't this:
Rihanna is not only fully dressed, but she's dressed in a denim custodial uniform.
Kanye is there, but his biggest moments are him dancing too hard given the chill nature of the song. Considering last week's adorable, yet equally chill video for "Only One," I was hoping we'd get a little more colorful energy from Yeezy this time around.
G/O Media may get a commission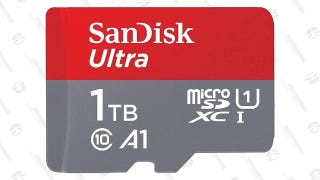 Save $75
SanDisk Ultra 1TB MicroSDXC Card
Paul McCartney is also visible, but he's mostly (READ: only) rocking out acoustic style on his guitar. There are a few shots of them as a group, but really, it's a lot of single shots of each of them lip synching and pseudo moving. The video is essentially a gif of the single artwork we saw a few weeks ago.
The whole video is shot in a narrow aspect ratio, too, so that's unique. I do kind of dig this minimalist vibe, though. I mean, I can't imagine Paul McCartney would sign on for anything too colorful or CGI.** Maybe it's best that this unlikely collaboration stays in black and white. We'll just have to wait for the rest of the album to drop to see if any of them really let loose.
**UPDATE: Apparently I have NO IDEA what I'm talking about because Paul McCartney is saturated and CGI'd to the gods in his super recent video for "Hope for the Future." Now who's to blame for this incredibly docile video?
wut?
Akilah Hughes is a comedian, YouTuber, and staff writer and producer for Fusion's culture section. You can almost always find her waxing poetic about memes and using too many emojis. 🍕