Late last week it was announced that Degrassi, the Canadian teen drama that went there — and introduced us to Drake when he was still Aubrey — will end, forever, on July 31. Variety first reported the emotionally devastating news:

"'For an incredible 14 seasons, 'Degrassi' has been a groundbreaking show tackling so many important topics that real teens face in their everyday lives," said Keith Dawkins, SVP and general manager, Nicktoons, TeenNick and Nick Jr. "In the final episodes on TeenNick and through the hour-long special and social activations, we hope to say goodbye in a way that is both fitting to the show and 'Degrassi's' passionate fan base.'"
Degrassi Community School's most iconic class endured so much adversity that the term "Degrassi" can now be used as code for drama. We're talking cyberbullying, eating disorders, self-harm, abortion, school shootings, STDs, stabbings under the cover of night, rape, and unlimited other horrifying life scenarios. We all know about Drake's role as "wheelchair Jimmy," but there are loads of characters that deserve their shine ahead of the series finale, too. In order to "make it through," we decided to unofficially, but accurately, rank the characters:

19. Rick Murray
Rick was introduced as Terri's (see number 15) tragically pathetic and abusive middle school boyfriend. When she went to break things off with him he pushed her into a rock and put her in a coma. Obviously no one was rooting for this guy. When he returned to Degrassi (years later, in high school), he was heavily bullied. Whether that was right or wrong, he then went on to incorrectly ID Jimmy as the cruel prankster who tarred and feathered him on his big game show night and SHOT HIM IN THE BACK IN WHAT IS THE SADDEST SCENE ON TELEVISION EVER.  He put the wheelchair in wheelchair Jimmy.
Shortly thereafter, the cops shot him down. But yeah, what a total douche.
18. Sean Cameron
G/O Media may get a commission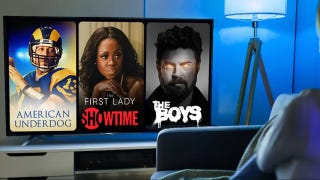 UNDER $1
99¢ Prime Video Channels
Dude's an asshat, okay? He got in a fight with some super irrelevant character in season 1 and made him go half deaf. He is the reason Rick shot Jimmy. He was just a dumb thug who dated Ellie and Emma and wasn't good enough for either of them. Yuck.
UPDATE: We originally reported that Sean was the reason Rick shot Jimmy, but we were confusing him for Spinner, who we rail against in detail below. Sorry for the mixup!
17. Ashley Kerwin
Ashley had that haircut, which was probably the most notable thing about her character. She dated Craig for a bit, was homecoming queen (with Jimmy as king), and fell from grace as the most popular girl in school after season 1. Since then she changed her personal style a bajillion times, but eventually succumbed to irrelevance. Poor Ashley.
16. Liberty Van Zandt
Stoic, brainy, and romantically unlucky, Liberty was one of the most relatable girls in the series. Unfortunately, she decided to become "fun" and after sleeping with J.T. (ugh) she found out she was pregnant and decided to raise the baby alone. Drama? Yes. Kinda lame how she threw her life away for a little boy? Double yes.
15. Terri MacGregor
Terri wasn't on the show very long, which is the only reason she ranks so low. She had long since transferred to a private high school by season 7's realest shenanigans. Her character was a beacon of body acceptance and she rivaled Paige's HBIC status on a number of occasions.
14. Toby Isaacs
Resident whiny baby Toby was always such a downer. He was Linus' blanket personified. Toby was limp and depressing in scenes, yet somehow appeared in a whopping 8 seasons of the show. Also, what a jerk for hooking up with Liberty after the whole J.T. thing (see number 12).
13. Jay Hogart
This dude was like 30, right? He got kicked out of high school because he was the catalyst to Rick's shooting, but he was always working seedy jobs and almost never went to class. What high schooler works at an auto body shop?
9 seasons later and spreading gonorrhea like wildfire, he was STILL ON THE SHOW. Why? Who was a fan of his story line??? We need the receipts.
12. J.T. Yorke
Liberty's baby-faced baby daddy (and the kid who looked like all of your friends' little brothers) was J.T.  He was kind of a dweeb, best friends with Toby, and somehow macked on the hottest girls on the show. His heart seemed in the right place most of the time, but he couldn't stop messing up after he got Liberty pregs. He eventually got stabbed all the way to death at a rival  high school's party. #RIP
11. Kevin Smith
It's true, if you lived in Canada in the early 2000s, you were going to be in either Degrassi or Charlie Bartlett or both.  Kevin Smith apparently accepted the offer to appear on the show during 2009's Degrassi Goes Hollywood — the four-part episode/TV movie extravaganza — as himself. The plot is basically Smith making a movie about the high school (because incessant teen drama is good for the box office) starring beloved characters Jay and Silent Bob and even Paige Michalchuk (see number 4). Hell, even Alanis Morissette got in on it.

10. Spinner Mason
We're obviously not big fans of Gavin Reginald "Spinner" Mason since it's his fault Jimmy got shot (this, after he stole Jimmy's iPod). Still, he provided lots of entertainment and drama for the series. Spinner's biggest personal struggle was testicular cancer, but luckily it went into remission.

9. Darcy Edwards
Darcy was introduced in 2007, so she's not an OG character, but she's still important. She's pictured above with human garbage can Peter, who is so garb he didn't make the list. Darcy's story goes like this: Darcy was super Christian, and hated on pretty much all the other kids who didn't live up to her standards. She slowly morphed into a hot, cheerleader-type and the moment she rebelled even a little she was drugged and raped, and contracted chlamydia. At her lowest, she accused Mr. Snake Simpson (Emma's dad) of sleeping with her, putting his entire career in jeopardy. She went to a therapy camp and finally sorted out her issues and grew past them. She wasn't on the show for long, but her addition introduced the Degrassi universe to the threat of STDs.
8. Hazel Aden
Hazel was Paige's best friend, but she was never portrayed as a stereotypical black sidekick. Her character had agency: Her family was Muslim from Somalia, but they had to flee to Toronto during the civil war of the early '90s. Hazel was a mean girl for most of the series, manipulating Manny, ostracizing Ashley, and spreading rumors about Liberty. She leaves that reputation behind after hiding her Muslim heritage post-9/11 and watching a different girl get bullied instead. She goes back to being a likeable human and supports Jimmy when he becomes disabled. Also, they kiss a lot.
7. Emma Nelson
Emma was on the show from the first season, where (seen above) she was a tiny little baby. Her dad is a teacher at the school and she spends most of the series being a goodie two shoes. Then she won puberty and looked like this:
She tried to look out for Rick when he came back to the high school, but in the end, he definitely pointed his gun right at her.  This gave her PTSD (understandably) and following a slew of bad decisions, she ended up getting gonorrhea from Jay after a round of oral sex down at the "ravine." She was treated but continued to spiral, developing anorexia nervosa in season 5. She went on to rehab and graduated high school as emotionally damaged as her peers.
6. Craig Manning
Craig was the sweetheart with puppy dog eyes all the girls were in love with. His life wasn't all clear skin and growth spurts, though: He moved in with his abusive father, who died shortly thereafter. Craig's manic reaction to his father's death resulted in a diagnosis of bipolar disorder. Prior to that, Craig cheated on Ashley with Manny, and since this is Degrassi and it goes there, Manny got pregnant and aborted the baby. Craig exited the series after getting a "record deal," which is ironic because Aubrey Graham stayed on the show, and now he's Drake sooooo  ¯\_(ツ)_/¯.

5. Manny Santos
"I'm going to be an actress — an Academy Award-winning actress… and you can sell this for a million dollars because I'm going to be FAMOUS."
Those were Manny's last slurred-words before she flashed her bosom to a crappy flip cam at a lame high school party senior year. However, it wasn't her first time showing a lot of skin to the students of Degrassi. When she was in 8th grade she decided to go to school wearing skin-tight pink velour pants and a white crop top… Oh, and making sure her thong strings were def showing for the world to see.
The difference, though, was that when she was in 8th grade she was making a choice that she was in control of, even if it was against dress code. The latter was an inebriated mistake used against her in a horrific display of cyberbullying. Even though she regularly challenged Paige Michalchuk's status as queen bee, Manny was usually kind to her friend, Emma, especially when Emma was going through her drama. Be real, everybody loves Manny.

4. Paige Michalchuk
2003's hottest high schooler was Paige Michalchuk. She oozed HBIC ferocity (see "HOTTIE" tank top above) and was quick to clapback any time someone stepped to her the wrong way. Paige also had one of the most tragic storylines of any character. After being raped by Dean, a boy from another school at a party in 8th grade (two-part episode), she was subjected to his harassment for multiple seasons. She exhibited signs of PTSD when Degrassi Community School played his high school's basketball team (she was head cheerleader, obviously), and had a panic attack. Years later, Paige got her day in court, but unfortunately she did not win against Dean. That evening after the trial, she purposely drove her car into his car — which was unbelievably satisfying for viewers who wanted to see her vindicated.
In her college years she dated Alex (who did not make the list because her character had no agency outside of being Paige's girlfriend). Their relationship was one of the first bisexual teen relationships shown on television.
3. Marco Del Rossi
Marco, the jean jacket and cute tush from the opening credits, was such a hero. He "dated" Ellie, and finally came out to her after she told him she loved him. Though Ellie was crushed, Marco was relieved to find that coming out opened up his life to love and real experiences, and he became a much more interesting character because of it. He dated Dylan (pictured above, but not on the list because he was not part of the original crew and also, not really that interesting), which was one of the first teen gay romances on television. Yes, it predates Glee. His character was a reflection of life for so many LGBTQ youth that was hardly seen on television at the time, and he wasn't even a little bit stereotypical. Go 'head, Marco!

2. Ellie Nash
Every high school has a cool goth girl. Ellie was that girl. Her father was absent and her mother was a major alcoholic, which contributed to her struggles with depression and self-harm. With the help of group therapy, she overcame her mental state and healed. She joined the squad's band (see below) for a while, much to the dismay of Manny. She was in love with Marco, and when she found out he was gay she got over it and supported him! This girl had heart, which is important when your high school is constantly in turmoil. In college she found her passion for journalism and essentially peaced out.

1. Jimmy Brooks 🙌🏾
The list would be wrong if Drake, erm, "Wheelchair" Jimmy Brooks, didn't come in at number 1. From the first season of The New Generation, Jimmy was humble, likeable, and talented. He dated Ashley and Hazel. He slayed on bass in Downtown Sasquatch — which is the most Toronto band name in the history of the 6.
Jimmy was always super helpful. He gave Spinner a heads up about his B.O. problem. He let Ashley know her poems were trying too hard to be poetic. He actually felt bad for Rick getting tarred and feathered before he got shot in the back and paralyzed from the waist down.
But probably most importantly, Jimmy was the perfect catalyst for Drake to shed his "Aubrey" skin and become the Champagne Papi with whom we can run with our woes. If that's not reason enough to top the list, we don't know what is.
::sigh:: gonna miss these kids and their probs.
Akilah Hughes is a comedian, YouTuber, and staff writer and producer for Fusion's culture section. You can almost always find her waxing poetic about memes and using too many emojis. 🍕