That's a wrap on RiseUp, Fusion's summit on global youth protests and positive social change in Washington, D.C. on Wednesday. Check out the highlights below, watch video from all of the panels here, and keep up with us on social media:
- Fusion on Facebook
- Fusion on Instagram
- Fusion on Vine
- @FusionIsLive on Twitter
- @ThisIsFusion on Twitter
- Add Fusion on Snapchat: thisisfusion
RYOT HOUR - SPOTLIGHT: ACTIVISM
How do you use the spotlight to raise awareness around important causes? Our panel discusses strategies for using celebrity to achieve impact.
Speakers
Dawn Olivieri, Actor and Environmental Activist
Nikki Reed, Actor and Environmental Activist
Iris Andrews, Greenpeace
Moderator – Bryn Mooser, Co-founder, Ryot
Dawn Olivieri: Go out and get dirty
The American Hustle actress said we should go beyond "clicktivism." "You need to go out and fucking do something. Actually go out and get dirty. You need to do that."
G/O Media may get a commission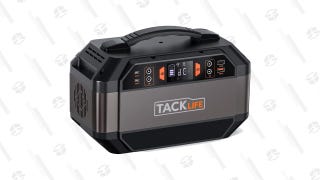 Tacklife Portable Solar Generator
You can start making a difference in your own daily routine. "I'm obsessed with sourcing: my food, my clothes," says Olivieri. "I want to know where its coming from. We should all ask those question."
Nikki Reed on finding her voice on social media
Around the time the first Twilight film came out in 2008 and social media was exploding, Reed admitted struggling with how to use the online exposure.
"I was late to the party, I was scared and I didn't know what my voice was," she said onstage. "What I've discovered is it's about creating real change and being proactive; figuring out what the message is and finding out who the audience is and connecting with them." As an example of how she's trying to make an impact, Reed mentioned she's releasing a new music single via Ryot.org that will benefit an animal shelter she's been working with.
—
A CONVERSATION WITH PUSSY RIOT: Nadya Tolokonnikova and Masha Alekhina with Alicia Menendez
The Russian punk group Pussy Riot gained notoriety last year when its members were imprisoned for protesting Vladimir Putin.
Nadya Tolokonnikova, a Pussy Riot member, said its goal is to make Russia a place where you don't have to risk your livelihood to exercise free speech.
"To be heard, you have to hurt yourself or go on a hunger strike," she said. "We want people who don't want to risk their lives to take part in government."
Masha Alekhina said that despite their demonstrations, the Russian government has only grown stronger. That's especially true after its intervention in Ukraine.
"They just realized they can do everything," Alekhina said of the FSB, the Russian intelligence service.  "They can put anybody into jail and nobody can do nothing with it."
Nadya Tolokonnikova was more frank about Putin's regard for Russian citizens. "He don't give a shit about you."
Tolokonnikova said that public support was crucial for the group while it was in prison.
"Every time our lawyers came, they told us another person who supports us. It was very supportive, all the encouragement we had we had from you."
—
MAKING PROTEST MATTER
How do you hold on to progress and make it last? Are there ways to change the system from within? Conversation in the round with experts from the worlds of advocacy, journalism and government, focusing on the best ways to lock down gains and push a movement forward.
Speakers
Dante Barry, Executive Director, Million Hoodies Movement
Michael Tubbs, Stockton Council Member
Maria Ressa, CEO, Rappler
David Burstein, Founder, Run for America
Paula Recart, North America Leader, Ashoka
Moderator  - Nando Vila, Fusion
Recent protests — the Arab Spring, Occupy Wall Street, the Umbrella Movement — all seemed to start in a flash. But maintaining the momentum can be difficult.
"It's easier now than it even has been in the past to get people really jazzed up about something," said Fusion's Nando Vila. "But in a way, that might have made real progress in a social movement a little more difficult…Sometimes we can get a little frustrated by how quickly the disillusionment sets in."
It's not an entirely new problem. Paula Recart said she was in Chile when the Augusto Pinochet dictatorship ended 1990. She felt like it was a victory, but the political change she expected took decades to materialize. "What happens after is the most important measure," she said.

STORYTELLERS' STAGE
Throughout the day, Storytellers' Stage showcases compelling personal stories about creativity, protest, failure, and persistence, told by today's leading young activists, artists and innovators.
Speakers
Mike Kim, North Korean refugee activist
Ala'a, Syrian American activist, subject of "#ChicagoGirl"
#ChicagoGirl: 'I walked over a minefield'

Ala'a, the subject of the documentary #ChicagoGirl told her story of reaching out to Syrian refugees with medicine from the U.S. She recounted crossing the border from Turkey into Syria in 2012, but bypassing a formal entry point for fear of trouble with Syrian officials. "I walked over a minefield with other activists for a couple of hundred meters," she said.
She said she continues her relief work "for the sake of the children who are eating grass and cardboard boxes because they are being starved."
—
TECHNOLOGY: PROMISE AND PERIL
Activists around the world are trying to unleash the productive power of technology without falling afoul of repressive regimes. This debate-style session examined how technology is affecting the distribution and exercise of power, highlighting competing views and drawing lessons from the past to better understand where things are heading. (Jointly presented with Brigade)
Speakers
Sascha Meinrath, founder X-Lab, New America Foundation
Baglan Nurhan, Revenue Chief, AnchorFree
Gayle Karen Young, Chief Talent and Culture Officer, Wikimedia Foundation
James Windon, President, Brigade
Marc Rotenberg, founder and executive director, EPIC
Moderator  - Alexis Madrigal, Fusion
Technology is empowering activists but privacy laws lag behind
"We thought it'd be important for people to communicate freely online," said Marc Rotenberg, who organized the first online petition.
But Rotenberg said it's equally important to be able to keep your communications private online. Technology is advancing and allowing people to connect and start movements but it's also giving governments access to a lot more information.
"You're not just empowering activists with technology," said  Young. "The quest is always going to go to better and better options so the choice you have at any given moment is to use the best options you have,."
—

FUSION LAB/LUNCH
The lab started with several lightning-style talks with people creating new platforms and channels for activism. Attendees then broke out into clusters to meet with speakers over lunch and discuss their own solutions to thorny social and political challenges like human rights abuses or poverty.
Lab Leaders
Benjamin Knight, founder, Loomio
David Keyes, Movements.org
CL Kao, founder, g0v.tw
Eileen Guo, Impassion Media, Afghanistan
Aliya Rahman, director, Code for Progress
Moderator  - Felix Salmon, Fusion
'Dumb phones' just as powerful as smart phones in Afghanistan
Eileen Guo, the creator of Afghan citizen-journalist platform Paiwandgāh, is taking advantage of traditional cellphones to create social networks in Afghanistan. Just 2 million people there have internet access, but there are nearly three cellphones per adult. Users can report news via SMS and call-in networks.
"How do you take advantage of this simple dumb phone … that is just as powerful and has the potential to make things go viral in the same ways?"
Lack of tech-company diversity is 'offensive'
Aliyah Rahman helps lead an organization, Code for Progress, that develops apps for social justice. She ripped the tech sector for it's paltry hiring of people of color. Less than 10 percent of workers at major tech companies are black or Latino.
"It's actually offensive for me to call themselves innovators," Rahman said.
—
Samantha Power, U.S. Ambassador to the U.N., in conversation with Jorge Ramos
In a conversation that included topics ranging from Ebola to Libya, Power talked about her role as a key player in some of the Obama administration's most difficult challenges.

Shortly after the discussion began, a small group of protesters interrupted the ambassador, carrying signs that read, "No future in war. Don't bomb Iraq" and "Millennials think you're a war hawk."
Ramos quieted the demonstrators by promising to ask Power about the Obama administration's war record. On Libya, Power said she followed the president's lead in deciding to intervene militarily. "I'm not going to discuss my position" during that internal debate, she said. "I work for the president of the United States."
On Ebola, Power spoke about how social stigma needs to be addressed as part of any solution. She talked about an African woman who faced discrimination even after she was cured of the disease. "She didn't get welcomed back into her community, she was completely shunned, almost as lepers were shunned," Power said.
Ramos finished the conversation with a provocative question. "Do you consider yourself a rebel?" he asked. Power had begun by saying that as a former journalist, she used to sense an "intruder alert" when she first visited the situation room.
Power didn't take the bait. "First, I have no time to go meta on myself," she said. "I consider myself a diplomat, which means not answering that question.
—
EARTH IN THE DIGITAL AGE
How do you use the tools of the information age to spread the word on environmental and animal welfare causes? How can people reconsider their relationship with animals, and the consequences of that relationship? Presented jointly with Ryot, this panel explores the e new tools of activism, how to marshal collective action, and forging connections between diverse audiences and the natural world.
Speakers
Jo-Anne McArthur, animal rights activist and subject, "The Ghosts In Our Machine"
Madison Stewart, ocean/shark conservation advocate
Nico Ibarguen, Fusion
Moderator  - Molly Swenson, COO, Ryot
The stunning relationship between livestock and the ocean
If you stop eating livestock animals, you can help reduce damage from fishing, according to Madison Stewart. Roughly a third of harvested seafood goes to feed livestock or farmed fish.
How to help the world go vegan
Finding vegan or vegetarian food in low-income communities can be a challenge, but part of that is because of the pro-meat status quo, panelists said. McArthur said groups working to provide such meals should see what foods are available, but try to avoid boring solutions, like a dreary "mashup of rice and peas." You should see "what kind of spices can we get in here to make this really interesting and really healthy," she said.
Stewart said that in her native Australia, you can get a supermarket to carry a product if you collect more than 300 signatures. "It's all about consumer demand," she said, "so maybe that would work over here."
Connecting with animals on an 'emotional level'
When photographer Jo-Anne McArthur visited a rabbit slaughterhouse, she tried to take photos that helped viewers connect with the animals on an emotional level. "There were all sorts of gory shots that I could have got," she said. But instead she took shots of rabbits waiting in cages before their turn to be killed.

"She looks horror-stricken and she's next in line for slaughter," McArthur said. "She's looking into the camera and she's obviously terrified…it's undeniable how she's feeling."
—
STORYTELLERS' STAGE
Throughout the day, Storytellers' Stage showcases compelling personal stories about creativity, protest, failure, and persistence, told by today's leading young activists, artists and innovators.

Speakers
Sofia Campos, Board Chair, United We Dream
Wael Ghonim, Internet activist
Viraj Puri, founder, Bullyvention
Sofia Campos: 'It's not our fault'
Sofia Campos, a graduate student at MIT and immigration activist, was 17 years old when she found out she was undocumented.
"The hardest part of being undocumented was questioning my own dignity," she told attendees. "Now I know better. I have found support groups. We've been able to empower ourselves. It's not our fault. We've inherited an unjust system."
Wael Ghonim: I quit Google and did 'something better'
Wael Ghonim was an instrumental leader in the Arab Spring in Egypt in 2011. But back then, he didn't have an activism background. When a young man was killed by police in the city of Alexandria, he started a Facebook group "We Are All Khaled Said " that quickly garnered 30,000 followers.
"I worked at Google, had a great job, based in Dubai.  But I was not really happy. I was always frustrated looking at my country and how the young generations had been losing hope," he told the crowd at Fusion's RiseUp event. "I felt responsibility to do something better. Fight that and not be silent."
Ghonim was detained by Egyptian authorities for 11 days. "In jail, I realized it doesn't really matter how many years I live or places or go to. What really matters is what values I live by," he said. "I realized that change is going to be gradual and revolutions are going to be processes."

—
THE MOMENT
A conversation with activists on the front lines. What inspires action and propels someone to get involved? What factors must align for a movement to coalesce: frustration, the possibility of change, the right tools?
Speakers:
Yon Goicoechea, opposition activist, Venezuela
Wei Liulin, founder, "White Shirt Army," Taiwan
Chernor Bah, global youth activist, Sierra Leone
Gisela Perez de Acha, 132 Movement, Mexico
Moderator  - Jorge Ramos
Chernor Bah: a stolen childhood galvanized his activism
"The moment starts by asking when our lives were no longer normal, and for me that was when I was 6 years old," said Chernor Bah, a global youth activist from Sierra Leone." I couldn't be a kid; I saw people getting killed, my house and school got bombed and I had to run."
"I couldn't be a child; I had no time to be a child," Bah said.  So he grew up early and at age 15 started to organizing youth groups to start shaping peace. "We've suffered from war, so we need to be part of peace process," he said. "In six months we had organized 60 children's clubs…"
By working for peace, children who were used as child soldiers became agents for peace. "We became positive agents, we galvanized that."
Gisela Perez de Acha: I thought feminism was boring
"I used to think feminism was boring — a bunch of old ladies talking about pregnancy and not shaving," de Acha told Jorge Ramos. (Read our profile on Gisela's activism here.)
But then in Paris she was introduced to Femin, a radical topless feminist activist group that was protesting the pope. "They were punk and powerful and beautiful and I loved it. I saw that feminism can be cool powerful and fun."
——
OPENING CONVERSATION: THE CHANGE IMPERATIVE
Cory Booker, Senator (D-NJ) in conversation with Alicia Menendez, Fusion
Booker calls for 'immediate' criminal justice reform
Sen. Cory Booker (D-N.J.) says criminal-justice reform might be one of the most pressing matters before Congress.
When he was a student at Stanford University, Booker said "I can neither confirm or deny that I saw a lot of people smoking pot." But he added that people are locked up for it every day in cities around the country.
The nation's drug laws in particular are "in urgent need of reform."
Booker: 'Too many of us give up our power'
Sen. Cory Booker (D-N.J.) has a message for people who are upset with the results of the midterm election: don't complain, vote.

At Fusion's RiseUp conference in Washington, Booker said there are "real consequences" when people decide not to vote in elections. Turnout in this month's midterm elections was the lowest it has been since World War II.
"Too many of us give up our power not realizing we ever had any," Booker told Fusion's Alicia Menendez.
Booker said that if more young people voted, Democrats could have won races in places like Colorado. That could affect major policy debates in Washington, like criminal-justice reform and foreign policy.
"If you're not voting because you think all politicians are the same, you're hurting our country," he said.
The full schedule is here, and check back on this page for more updates.
@fusion