Just over a week after speaking out against white supremacy and hate at the 2017 MTV Video Music Awards, the Reverend Robert Wright Lee IV—a great-great-great-great-nephew of infamous Confederate general Robert E. Lee—has announced plans to step down from his pulpit at the Bethany United Church of Christ in Winston-Salem, N.C.

"My presence at the church as a descendent of Robert E. Lee and an outspoken opponent of White Supremacy had already attracted attention, but with my appearance on MTV the media's focus on my church reached an all time high," Lee explained in a short letter published to the Auburn Seminary's website. He continued:
A faction of church members were concerned about my speech and that I lifted up Black Lives Matter movement, the Women' s March, and Heather Heyer as examples of racial justice work.

I want to stress that there were many in the congregation who supported my right to free speech, yet were uncomfortable with the attention the church was receiving. The church's reaction was deeply hurtful to me.
Lee's speech introducing Susan Bro, the mother of murdered Charlottesville, VA, protester Heather Heyer, was seen as one of the highlights of this year's VMAs. In it, Lee denounced America's "original sin" while urging "all of us with privilege and power to answer God's call to confront racism and white supremacy head-on."
G/O Media may get a commission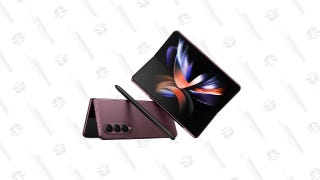 Save Up to $300
Galaxy Z Fold4
In announcing his resignation from the pulpit to his congregation, Lee explained that: "There are so many good things going on with this congregation and I do not want my fight to detract from the mission."
Lee's resignation does not mean, however, that he has given up on his spiritual quest to overcome hate and racism in the United States.
"I do not want this episode to be a distraction from the sacred work of confronting white supremacy in all its forms," he insisted in his letter.
My calling and my vocation has led me to speak out against violence and oppression in any form, and I want to especially challenge white Christians in America to take seriously the deadly legacy of slavery in our country and commit ourselves to follow Jesus into a time of deep reflection, repentance and reconciliation.