MEXICO CITY—Mother should I run for president? Mother should I trust the government?… Mother should I build the wall?, sang the 200,000 Pink Floyd fans who attended the free Roger Waters concert at Mexico City's Zocalo plaza on Saturday night.
Water's hit song "Mother," which was inspired by the death of his father during World War II, found strong echo in Mexico last weekend among fans who feel the lyrics speak to the country's current troubles.
Lee el artículo en español aquí.
The parallels were intentional, and they weren't subtle. When Waters' performed the song "Pigs," images of the Republican candidate were projected onto a giant screen along with the words Trump eres un pendejo (Trump you're a fucking idiot).
G/O Media may get a commission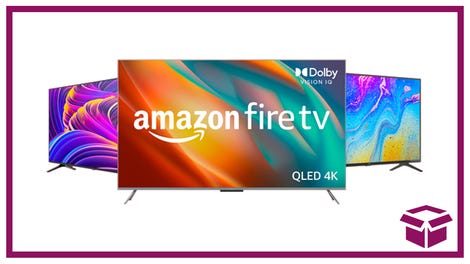 Ooh. stunning.
New Amazon Fire TVs
"There isn't an 'us versus them,'" said Waters during the concert. "Tear down the wall," he yelled.
Mexican President Enrique Peña Nieto also got a piece of Waters' mind during the three Mexico City concerts last week.
Pink Floyd's signature blow-up pig hovered above the Zocalo with phrases written on it alluding to the disappearance of the 43 students from Ayotzinapa. And between songs Waters read a letter in Spanish to President Peña Nieto in which he spoke out against inequality, violence and the thousands people that have gone missing in Mexico.
"Mr. President, the people are ready for a new beginning. It's time to breakdown the wall of privileges that divide the rich and the poor. Your policies have failed. War is not the answer," he said.
The Zocalo was immediately filled with chants of ¡Fuera Peña! ¡Fuera Peña! (Out with Peña!).
The phrase commonly heard at Mexican protests ¡Renuncia Ya! (Resign now!) was also projected onto the screen above the stage.
Waters, known for taking a bold stance on political issues like the Iraq war and the Israeli-Palestinian conflict, captivated the Mexican audience with  his anti-Trump and Peña Nieto messages.
"He's very accurate with his political statements," said Roberto Trujillo, a fan of the former Pink Floyd  frontman who attended the concert with his wife and two kids. "What Waters is saying is an outside reflection of what is really going on here in Mexico."
"We all know that Peña Nieto isn't prepared to be in the position he is in," said Jenny García, a 26-year-old woman who the attended the concert. She told me that Waters' message made her reflect on the country's current situation. "It's a government system that you can't topple easily."
Some concertgoers wanted to have a night of politics-free fun, while others questioned Waters' decision to comment on Mexican politics.
Brenda Vega, 33, was puzzled as to why Waters' statements were tolerated while other foreign artists and activists have faced repercussions for meddling in the country's politics during their trips to Mexico.
Vega noted that Article 33 of the Mexican Constitution forbids foreigners from participating in any political action. The government has gone as far as to deport foreign activists in the past for getting involved in national politics.
Such was the case of Manu Chao, a French singer/songwriter, who was supposedly investigated by the Mexican government after speaking out against "state terrorism" in Atenco, a town outside of Mexico City who police crackdowns came under criticism in 2006, when Peña Nieto was governor.
Some audience members also noted that Waters' concert was held a day before the Oct. 2 anniversary of the Tlatelolco massacre of 1968, where soldiers and police officers killed and disappeared hundreds of students in Mexico City who were protesting against President Gustavo Díaz Ordaz' repressive government.
Some said that, despite its politically charged themes, the concert ended up appeasing the masses.
At the end of the night people left the Zocalo in an orderly fashion. Most seemed pleased and extremely tired after having to walk through downtown to watch the British rock icon.
After months of internal tension and a renewed urgency to stop the rise of Trump in the U.S. polls, the Waters concert ultimately provided a space for Mexicans to relax and enjoy a collective euphoria.