Some of the Rockettes' fight against performing at President-elect Donald Trump's inauguration is only getting harder. After an anonymous dancer spilled to Marie Claire about the internal turmoil among the company, Madison Square Garden's executive chairman, James Dolan, told the dancers in a closed-door meeting that they would have to find a way to be "tolerant of intolerance."
"This is a great national event," Doland reportedly told the dancers during a December 27 meeting, according to a secret recording of the conversation leaked to Marie Claire. "Every four years we put in a new president. It's a huge moment in the country's history. It usually signifies a whole change in how the government is going to run. The fact that we get to participate in it…we are an American brand, and I think it's very appropriate that the Rockettes dance in the inaugural and 4th of July and our country's great historical moments."
Dolan is said to have gone on to explain that he doesn't believe the performance will "hurt the brand"—a chief concern of his. But that concern apparently stops short of supporting the dancers themselves, who have vocally protested performing for a man who has openly admitting to groping women against their will. Dolan's "gotta sell tickets," after all.
"A good portion of people voted for this person [Trump]. Hopefully they will like our brand. If 1% of 1% of them come to our show, we're going to do great," Dolan reportedly said.
Other dancers in the meeting expressed their concerns to Dolan about the responses they were getting both from Trump supporters and his opponents, specifically the backlash from their peers in the Broadway community.
G/O Media may get a commission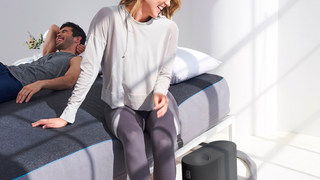 Eight Sleep Pod Cover
"The social media backlash on both sides of the political spectrum has been unbearable," one dancer reportedly said in the meeting. "Especially as someone who has loved and respected the Rockettes since I was three years old. I think that the Rockettes have always been apolitical, and now by performing at this particular inauguration, it's making us political."
The Madison Square Garden executive responded, according to the leaked recording: "I find it a little ironic—I get all of these emails, too, from people saying, 'Don't perform for this hateful person.' And then they proceed to spew out this diatribe of hate."
One dancer pushed further: "I mean, it just sounds like you're asking us to be tolerant of intolerance." To which Dolan responded, "Yeah, in a way, I guess we are doing that," Dolan said. "What other choices do we have? What else would you suggest?"
In a statement sent to reporters, Madison Square Garden responded to the anonymous Rockette quoted by Marie Claire and to the apparently surreptitious recording of Dolan's meeting with the dancers, calling it "deceitful and cowardly" and firing a shot at Marie Claire's parent company, Hearst:

This is one person who continues to attempt to represent the entire team of Rockettes.  This time it's in a story that is the result of an unauthorized recording that violated the confidentiality of all of her sister Rockettes. While Mr. Dolan stands behind everything he said during the meeting, no one in that room believed they were speaking publicly. Everyone in the meeting had the chance to speak their mind in a safe setting, and many did. Her secret recording was deceitful and cowardly and has betrayed all of her fellow Rockettes. Posting this story is beneath the ethical standards of Hearst. We are deeply disappointed in their decision to post this story.
We've reached out to Hearst and Marie Claire for comment and will update if we hear back.
So far, at least three of the company's 13 full-time dancers have reportedly chosen to not perform at the inauguration.
Tahirah Hairston is a style writer from Detroit who likes Susan Miller, Rihanna's friend's Instagram accounts, ramen and ugly-but cute shoes.