In a totally unsurprising turn of events, former Trump campaign advisor Roger Stone has really fucked up. As a result of settling a defamation lawsuit, he'll be forced to apologize in newspapers and on social media for lying about a Chinese businessman on Alex Jones' notorious far-right news website InfoWars, the Wall Street Journal reports.

From the Journal:
The agreement requires Mr. Stone to run ads in national newspapers, including The Wall Street Journal, apologizing for making defamatory statements about a Chinese businessman who is a vocal critic of Beijing. It also requires Mr. Stone to publish a retraction of the false statements on social media. Doing so exempts him from paying any of the damages.
On InfoWars, Stone said that Chinese businessman Guo Wengui was a "turncoat criminal who is convicted of crimes here and in China." He also accused Guo of donating to Hillary Clinton's 2016 campaign.

Stone is apparently repentant. He described his actions as "irresponsible" in a text message to the Journal. "I am solely responsible for fulfilling the terms of the settlement," he added.
G/O Media may get a commission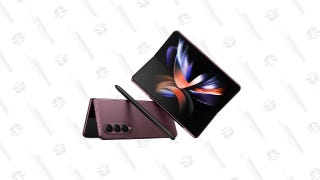 Save Up to $300
Galaxy Z Fold4
Stone is also involved in Special Counsel Robert Mueller's probe of the connections between the Trump campaign and Russia. Though this case is unconnected, it doesn't look great for anyone who is currently under investigation to be ordered by a judge to yell "I'm a liar" in public.

In some ways, this is a pretty good deal for Stone—apologizing publicly is a lot cheaper than the original request for $100 million in damages. But it's also a lot more damning for Stone to have to publicly admit to lying than it would be to quietly pay a settlement. It turns out, he may have taken the deal because it's the only thing he could afford.

Stone recently complained that he's being bankrupted by legal bills, which are now over half a million dollars. "This threatens to bankrupt my family and destroy me financially," he said on InfoWars.
Maybe he should have thought about that before bragging on Twitter about secret email leaks and making unfounded claims about powerful men online. Just a thought.
Stone can take comfort in the fact that if he is indicted by Mueller and convicted of crimes, he's more likely than almost anyone to be pardoned by Trump (that is, if Trump isn't impeached first).
From the Journal:
Mr. Stone has repeatedly claimed that prosecutors will have to go through him to get to President Trump, and that he will never testify against the president, whom he has known for decades. [...]

Earlier this month, Mr. Trump praised Mr. Stone's "guts" and credibility, tweeting that Mr. Stone wouldn't "make up lies and stories" by testifying in Mr. Mueller's probe.
Unfortunately for our president, it has now been decided by a judge that Stone would, and in fact did "make up lies." And soon, the whole world will know that, too.