When author Roxane Gay stepped on stage, a hush fell over the room. Several days after Donald Trump was elected president, 2,000 organizers, educators, and other leaders from across America attended Facing Race, a three-day conference in Atlanta presented by Race Forward: The Center for Racial Justice Innovation.
Nearly everyone in the audience sat with their phones raised, ready to capture the words of Gay, Friday's highly anticipated keynote speaker. The bestselling author of Bad Feminist and An Untamed State is a Haitian-American daughter of immigrants whose work and Twitter feed unapologetically call out discrimination and bigotry.
In a 20-minute address, followed by a conversation with Race Forward executive director Rinku Sen, Gay told the room of mostly people of color that she—like many others—didn't predict a Trump presidency. "I wish this was a nightmare and we could wake up." she said on the conference's second day.

Gay also criticized catchphrases that have characterized both the election and its aftermath.
"Love trumps hate. When you say it over and over, you are literally centering Trump. The election proves love doesn't Trump hate," she said. "I'm not a nasty woman. Pantsuits are charming, but they are an outfit and will not get us to the Promised Land."  
The author admitted she's not much of an idealist, and is reluctant to build bridges with Trump supporters. Her solution to dismantling white supremacy and patriarchy is infiltration.
"People calling for healing and reconciliation are well-meaning, but also dangerous," she said. "We need to think about running for office. Run for city council. Become a member of congress. Get inside and suck it up."
G/O Media may get a commission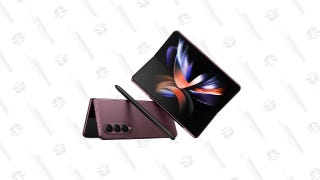 Save Up to $300
Galaxy Z Fold4
Gay's views have always resonated deeply with fans. Her keynote speech, which received a standing ovation, hit home for several attendees.
Kathy Wicks, a white attendee from Western Massachusetts, had a strong reaction to Gay's suggestion that white women voted for Trump because they didn't want to disappoint white men.
"I'm still trying to figure out what the fuck happened with white women," Wicks said. "What Roxane said is going to help inform me about how to have conversations with other white women."
Darlene Slaughter, an attendee from Laurel, Maryland, agreed with Gay's statement that a Trump presidency will ravage other already struggling countries like Haiti.
"We are so egocentric in this country," Slaughter said. "We haven't yet acknowledged Trump's global impact."
Gay, who was still trying to wrap her head around the election results, said she took comfort in friends, family, and writing, but didn't offer false hope.
"The world is not coming to an end, but it sure feels that way," she said. "In the meantime, we need to find ways to offer one another sanctuary."
Anjali Enjeti's work has most recently appeared in the Atlanta Journal Constitution, The Guardian, The New York Times, Washington Post, NBC, Pacific Standard, and elsewhere. She teaches creative writing at the Etowah Valley Writers Institute, the MFA program at Reinhardt University.