On Monday, a federal judge ruled against President Trump's ban on transgender people serving in the military. In the ruling, U.S. District Judge Colleen Kollar-Kotelly directed the Defense Department and Homeland Security to "return to the longstanding policy" of allowing trans people to serve. After the Justice Department, and presumably Trump, no one is more vexed by Kollar-Kotelly's decision than Alabama Senate candidate Roy Moore.
"The decision of a federal judge in the District of Columbia enjoining President Trump's executive order on transgenderism in the military is absolutely ridiculous and is a perfect example of the outlandish doctrine of judicial supremacy whereby judges exalt themselves over the Constitution they are sworn to uphold," Moore said in a statement released on Monday.

Moore, who was removed from Alabama's Supreme Court for refusing to enforce the higher court's same-sex marriage ruling, continued by peddling some seriously inaccurate and seriously transphobic junk science claims. "As recently as 2013, the American Psychiatric Association considered transgenderism to be a mental disorder," he said. (In 2012, the APA said it would no longer classify people who are transgender as having a mental disorder.)

Charging Kollar-Kotelly with "judicial activism," Moore demanded her impeachment. "Not only has she placed herself about the Constitution in finding such a nonexistent right, but she has also interfered with the powers of the President as Commander in Chief," he said, conveniently forgetting that other time he was removed from Alabama's Supreme Court bench for refusing to remove a statue of the Ten Commandments from the court house.
G/O Media may get a commission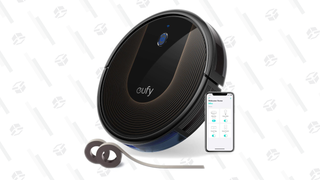 48% Off
Eufy BoostIQ RoboVac
This is not the first time Moore has called for the impeachment of federal judges. Supreme Court Justices who allowed same-sex marriage to become law should also be impeached, Moore told a crowd in mid-October.